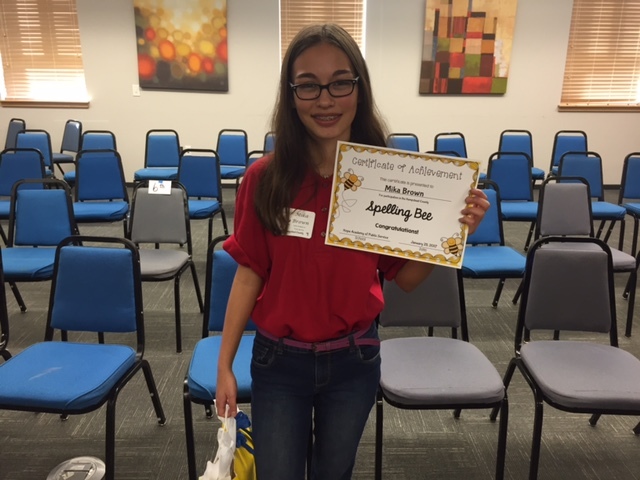 Brown three-peats at county bee
Ken McLemore
Tuesday, February 07, 2017
HOPE – Three in a row for Mika Brown.
Brown, the diminutive seventh grader who in her last two years has won the Hempstead County Spelling Bee, made it a trifecta this year from a field of 47 students in grades 4-8 from Hope, Blevins, Spring Hill, and Garrett Memorial Christian schools.
Brown represented the Hope Academy of Public Service this year, winning the right to represent Hempstead County at the Arkansas Spelling Bee in Conway in March. She won in a five-round set among the champions at each grade level that left Brown and first runner-up Alyssa Bonner, of Blevins, head-to-head for three rounds. Bonner fell last year in the first championship round to take third place against Brown and Garrett eighth grader Anna Kate Childress.
Brown carefully made her way through the competition, using a visual technique in which she spelled each word that gave her difficulty on her left hand with her finger before spelling it aloud. She said the tool allows her to visualize the word and determine whether it looks correct.
Brown also requested the "language of origin" tool for difficult words to differentiate subtleties in spelling that stemmed from pronunciation.
The longest competition of the morning was in the fifth grade eliminations as Antoine Walker from HAPS and Levin McGuire from Spring Hill battled to a 10-round tie. Both advanced to the championship round where they finished the day in a tie for fourth runner-up.
Championship round placement included Brown (HAPS) champion; Bonner (Blevins) first runner-up; Maci Clark (Spring Hill) second runner-up; Allison Bonner (Blevins) third runner-up; and Antoine Walker (HAPS) and Levin McGuire (Spring Hill) tie, fourth runner-up.
Grade level winners included Clark (Spring Hill) fourth grade; Walker (HAPS) and McGuire (Spring Hill) fifth grade tie; Alyssa Bonner (Blevins) sixth grade; Brown (HAPS) seventh grade; and Allison Bonner (Blevins) eighth grade.
The state competition has been sponsored annually by The Arkansas Democrat-Gazette in conjunction with the Scripps National Spelling Bee, sponsored by the E. W. Scripps Company. The Little Rock newspaper has sponsored the state contest since 1992.
The contest is limited to students under age 16 who have not advanced beyond the eighth grade.
The contest was conducted at the Southwest Arkansas Educational Cooperative building on the University of Arkansas Hope-Texarkana main campus, moving from its traditional site at Yerger Middle School upon the retirement of Janice Russell in 2015 after 22 years as contest coordinator.
SWAEC K-12 Literacy Specialist Kelly Cornelius was contest coordinator this year. Judges included Kathryn Dickinson, Jimmy Courtney, and Dana Ray.
Contestants this year included:
Blevins – Zackery Laughard, Hector Moreno, fourth grade; Lilly Allen, Baleigh Laughard, fifth grade; Alyssa Bonner, Jaycie Simms, sixth grade; Jeremiah Muresan, Dakota Benight, seventh grade; and Allison Bonner, Isabella Jones, eighth grade.
Garrett Memorial – Maci Clark, Sara Miller, fourth grade; Mikayla Fields, Bailey Haynes, fifth grade; Sophy Tyson, Hayden Quillin, sixth grade; Kennedy Hamilton, Max Garcia, seventh grade; and Grayson Chambless, Anna Beth Martin, eighth grade.
Hope – Braiden Lowe, Cherish Thomas, fourth grade; Kaden Brown, Maurice Hickman, fifth grade; Armand Bowling, T'Khyah Walker, sixth grade; Kaden Henderson, D'Angelo Palmer, seventh grade; and, Dabria Manton, eighth grade.
Hope Academy of Public Service – Antoine Walker, Katie Arroyo, fifth grade; Allen Thomason, Saniyah Walker, sixth grade; Mika Brown, Richard Ware, seventh grade; and, Nataly Ramirez, Darton Davis, eighth grade.
Spring Hill – Scarlet Clark, Clay Yocum, fourth grade; Levin McGuire, Austin Stone, fifth grade; Brooke Tullis, Emily Link, sixth grade; Emily Curtis, Marti Helms, seventh grade; and, Haylie Rhodes, Sarah Helmick, eighth grade.