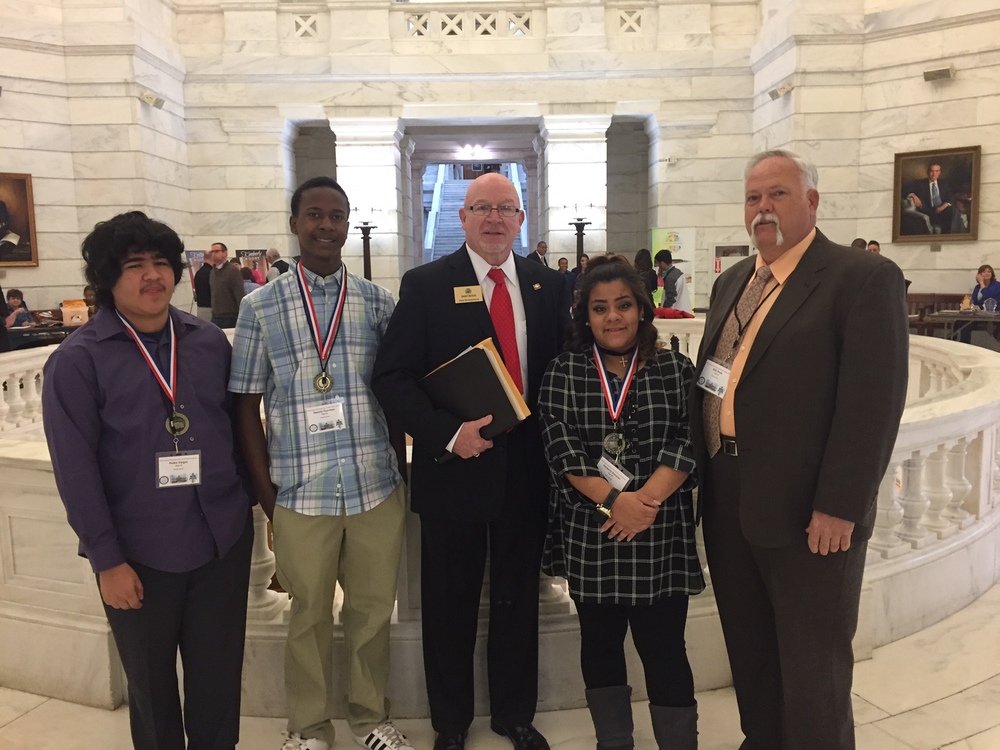 HHS program among top in state
Ken McLemore
Tuesday, February 14, 2017
LITTLE ROCK – Three Hope High School students accompanied the teaching head of the school's alternative learning program to Little Rock where they were honored as representatives of one the five most-improved ALE (Alternative Learning Environment) programs in Arkansas.
The Helping Our Pupils Excel (HOPE) Learning Center at Hope High School was named a Judge Evans Award winner at the annual Arkansas Alternative Education Leadership Day. HOPE Learning Center Director Billy Rook, HHS senior Kimberley Almazon, sophomores Deonte Thornton and Pedro Vargas, and HHS Principal Bill Hoglund were recognized in ceremonies at the Arkansas Capitol.
"Judge Evans was a strong committed AE teacher and principal," Lori L. Lamb, Arkansas Department of Education AE director, said Thursday. "He constantly researched best practices and worked hard to improve the current options for his alternative education students. Hope School District determined to help their students by improving the interventions and opportunities available for their students through alternative education."
Honorees were recognized by Governor Asa Hutchinson, had an opportunity to participate in a scavenger hunt and tour of the Arkansas Treasury, have lunch at the Big Mac building, and meet state legislators.
"We had the teachers recommend students; these three have been in the program the longest and have shown the most growth and improvement," Rook said.
He said the group met with State Representative Danny Watson, R-Hope, and hoped to meet with State Senator Larry Teague, D-Nashville.
Rook said the purpose of the Alternative Learning Environment is to provide a positive change in the lives of students and their education when traditional classroom methods aren't successful.
"It's a non-punitive placement," he said.
The ALE faculty at HHS includes Rook (social studies), Romunda Hamilton (science), Christie Tucker (English), and Mike Miller (Math).
Students accepted into the program are evaluated by a team of teachers for recommended placement, Rook said. Each student in the program follows a specific curriculum designed for him or her, with up to 49 percent of course work computer-based and the remainder as teacher instruction.
"At various times, we do direct instruction, group projects, or other teaching strategies," Rook said.
The program uses the APEX computer-based instruction program which is self-paced.
"Direct instruction is also, to some extent, self-paced," Rook said.
Incorporating differentiated methods, he said the program uses a student's capabilities to maximize his or her best method of learning. Rook said that might mean that in order to complete an assignment explaining the development of the telephone, one student might write an essay, while another might draw a detailed illustrated timeline presentation, or produce a poster with the explanation.
He said the methodology increases student interest in learning.
Rook took over the HHS program in the 2015-2016 school year. He has been a social studies teacher in the Hope Public Schools for 24 years, and is an alumnus of Hope High School's Class of 1981. He also holds a bachelor's degree in education from Henderson State University in Arkadelphia.
When he took on the ALE job, Rook immediately revamped the learning center at HHS. Student art on the wall at the entrance identifies the HOPE Learning Center. And, Rook had all of the standard desks and other furniture removed.
"We wanted a different environment to be more collaborative, stationed and comfortable," Rook said.
On any given day, some students will work together at one of two round tables, or study alone sitting in bean bag chairs or other non-traditional classroom furnishings. Rook said the difference is one of comfort and creativity.
"When you read at home, do you sit in a straight, hard-backed chair, or do you recline on the couch or the bed?" he posed.
The concept helps to reduce distraction and disruption; and, Rook is planning to take it a step further.
He is considering the use of what is known as "kinesthetic" furniture in the learning center; or furniture that moves with a student, such as a combination desk/stationary exercise bike, or chairs that accommodate foot movement. Such furnishings divert the distraction of "fidgeting" into useful movement.
"It helps them stay focused and engaged longer because they're not uncomfortable," Rook said.
"Where in the working world do you see people sitting at a standard student desk? Let's create the environment like a work environment."
He said using more collaborative technology and methodology helps keep the students better engaged and learning.
"It's really the efforts of the other teachers that make this work," Rook said. "They deserve the credit for the way they work with the students."