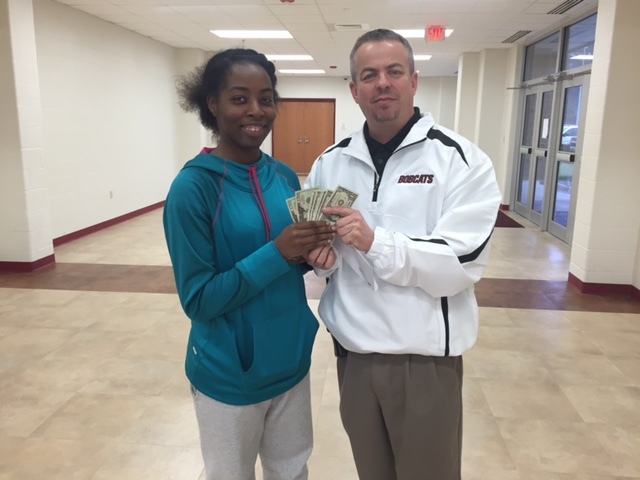 HHS names 'Strive for Five' winners
Ken McLemore
Wednesday, February 15, 2017
HOPE – Hope High School students qualified for the second nine weeks "Strive for Five" attendance initiative drawings were recognized Tuesday, with the top two prizes going to a senior and a freshman, both of whom were absent only one and half days, with zero tardies in the nine week period.
Senior Lennetta Conway chose the $50 cash grand prize and Freshman Leasly Luna received the Beats personal music set awarded by HHS Assistant Principal Mike Radebaugh.
"We are really proud of the way you stepped up this nine-weeks," Radebaugh told the qualifiers during morning donuts and juice gatherings prior to prize drawings Tuesday.
Winners by class include seniors Ja'bre Martin (iTunes card), Kiaura Smith (iTunes card), and Artruro Paredes (lunch at Amigo Juan Mexican Café); juniors Jackson Bowlin (iTunes), Destiny Bell (iTunes), and Lizbeth Medina-Bello (lunch at Amigo Juan); sophomores Juan Dominguez (iTunes), Chistopher Haywood (iTunes), and Joshua Gonzalez (lunch at Amigo Juan); and, freshmen Jerry Noble (iTunes), Gia Ventura (iTunes), and Miyaunna Purifoy (lunch at Amigo Juan).
Winners were drawn at random Tuesday with students having no more than five absences and tardies eligible once; students with four absences and tardies eligible twice; students with three absences and tardies eligible three times; students with two absences and tardies eligible four times; students absent and tardy once eligible five times; and, students with zero absences and tardies eligible six times.
All qualifiers were eligible for grade-level drawings and for the overall drawing. Students were required to attend the morning grade-level drawing to be eligible for either drawing.
Prizes for the initiative included eight $25 iTunes music cards provided by HHS; $50 cash given by Hempstead County Farm Credit; four lunches at Amigo Juan Mexican Café provided by Superintendent Bobby Hart's office; and, a pair of Beats personal music phones donated by an HHS supporter.
The initiative recognizes students who have five or fewer total absences and tardies per nine week grading period, and is part of a districtwide effort to foster better student attendance.
Qualifiers by grade were as follows:
Seniors – Jose Acosta, Shelby Adams, Kristin Anderson, Jose Arroyo, Lisbeth Moreno Bello, Robert Bolin, Ra'kiyah Bowles, Christopher Brown, Tristan Bunker, Gerardo Cardona, Jose Chanona-Ramirez, Devron Collins, Leenetta Conway, Tia-Elizabeth Corbett, Ros'Quasha Dancer, Jaime Duenas, Stormy Easttum, Freneshia Fields, Shuntina Franks, Melanie Friaga, Sabrina Garcis, Andrew Golden, Dana Green, Kenia Green, and Quiana Gulley.
Also, Adrianna Hamilton, Cecil Harris, Erica Hayes, Markel Haynie, Adrianna Hickman, Shaquayla Jackson, Yasmin Juanes, Jennifer Juarez, Summer King, Phillip Knighton, Mackenzie Lafferty, Latavia Lard, Justice Lawson, Alissa Lewis, Nigere Manning, Destiny Martin, Ja'bre Martin, Ana Martinez, Sabrina Maxfield, Arrieon Moore, and Ebony Morrow-Wallace.
Also, Ross Norman, Zi'keya Moses, Jayla Nash, Beyonce' Nelson, Arturo Paredes, Amil Pugh, Keith Randle Jr., Clyde Ricks Jr., Bernice Santamaria-Jacome, Deandrae Scott, Elizabeth Smelley, Kanetta Smith, Kanetta Smith, Kiaura Smith, Tatyanna Smith, Austin Stubber, Gianni Trotter, Matthew Tullos, Juan Ventura Jr., Darnesha Vickers, Sydney Watson, Cody Wheelington, Andrew Williams, Tazharia Woodberry, and Laith Zimmer.
Juniors – Grace Adams, Ashlea Anderson, Ricardo Baizabal, Elizabeth Bamber, Ivan Bautista, Destiny Bell, Jackson Bowlin, Keith Brown Jr., Kelbi Campbell, Vanessa Carballo, Alan Castro, D'koby Cheatham, Austin Coronado, Andria Curtis, Courtney Davis, Jenyia Davis, Ne'asia Davis, Dominique Edwards, Ja'Marcus Ellis, and Cameron Fuller.
Also, Cruz Garcia, Shenita Gayton, Justice Glenn, Viviana Gonzalez, Morgan Gray, Lorenzo Gutierrez, Darrius Harris, Jesus Hernandez-Contreras, David Horton Jr.,Nykeivia Horton, Elizeth Jimenez-Wilson, Norteisha Johnson, Zachary Johnson, De'aushyae Jones, and Tristen Jones.
Also, Shanhia Kelley, Quentin Key, Alyssa Lamb, Cody Lockhart, Christian Martinez, Angeloise McGill, Lizbeth Medina-Bello, Francisco Mendoza, Stephenique Morris, Angela Nava, Ashley Ogden, Fabian Ortiz, Victor Pardo, Eduardo Piza, William Pool, Dalton Potter, Hector Reyna Jr., Ke'azha Roberts, Kaitlyn Robinson, Makaylia Tate, Luis Toscano, Tylicia Watson, Kiara Welch, Jaylon Williams, Ta'mya Williams, and Quin'daysha Woodbury.
Sophomores – Ricardo Aguilar-Ramos, Jesse Allen Jr., Charles Anderson, Jaylyn Anderson, Joanna Arechiga, Adriana Borboa, Paul Culley, Jaleia Davis, Jaloni Davis, Juan Dominguez, Yajahira Dominguez, Natzari Felipe, Decorrien Flemming, Melissa Friaga, Mayra Garcia, Eder Gonzalez, Joshua-Wayne Gonzalez, and Gonzalo Guerrero.
Also, Keyontai Harris, Gladajah Haynes, Christopher Haywood, Erounnia Hearon, Julie Hensley, Jeremy Hicks, Zoie Hollis, Craig Jones, Nitzy Juanes, Benjamin Knight, Zy'mesha Lee, Christian Lowe, Monta'veous Mack, Tristian Martin, Sitlailth Martinez, Drake Mason, Clarence Mayberry, Eboni McClenton, Hanna McCorkle, Khalil McKillion, Taishima Moore, and Ricky Moreno.
Also, Tomairo Nabors, Cheyenne Naumann, Trinity Peterson, Natalie Phillips, Raley Potter, Kelsey Reedy, Guillermo Rodriguez, Derrheajjia Ross, Jose Ruiz, Quenten Salcido, Delia Torres, Joaquin Valadez, Pedro Vargas Jr., Sylvia Villarreal, Diamond Walton, Jordyne Weston, Makayla Williams, and Zahria Woods.
Freshmen – Lawrence Adetunji, Dewayne Allen, Britney Alvarado-Frayre, Luis Azanza, Jose Baeza, D'shawn Brown, Lyllian Cogley, Brianna Cole, Jacqueline Culley, Maria Dominguez, Pedro Frayre, Israel Gallegos, Savannah Gay, Gracie Gilbert, Lavon Glover, Aldo Gonzalez, and Kaley Green.
Also, Skylar Hawthorne, Maggie Haynes, Tanya Hernandez, Toby Huckabee, La'darrion Jacobs, Jeffery Jarrell, Kaylia Johnson, Alaysia Lewis, Christian Lewis, Leasly Luna, Etiya Manning, Margaret Mayberry, Jared McKamie, Evelyn Medina, Kevin Morales, and Faith Moreno-Scoggins.
Also, Andrea Nava, Jerry Noble Jr., Jacob Petit, Daniela Piza, Jalen Pool, Miyaunna Purifoy, Eduardo Reyes Jr., Shardae Reynolds, Quantevia Rhodes, Damien Richmond, Anthony Rodriguez, Kathy Rogel, Timothy Rowe, Omar Salazar, Jose Salgado Jr., Deonte Thornton, Christopher Torres, Johan Velazquez, Gia Ventura, and Kobe Watson.