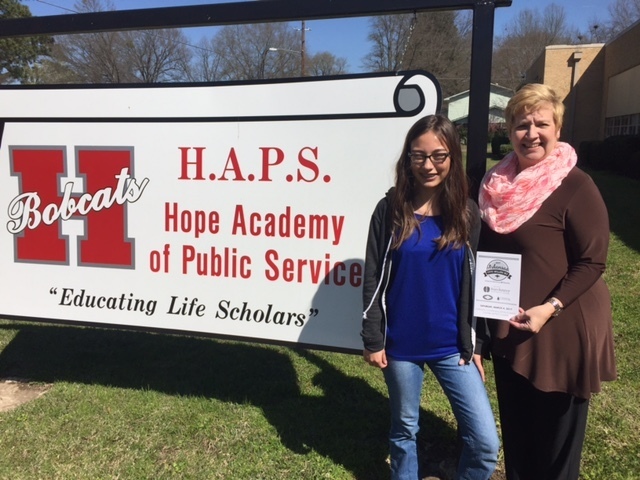 Brown takes third at state bee
Ken McLemore, Hope Public Schools
Thursday, March 09, 2017
HOPE – Hempstead County three-peat spelling bee champion Mika Brown spelled her way to third place in the Arkansas State Spelling Bee.
Brown, a seventh grade student at Hope Academy of Public Service, competed in the statewide contest at Central Baptist College in Conway on March 4, winning a Kindle E-reader, $25 Amazon gift card and two free admission passes to Arkansas Skatium for the third place finish.
Brown said the competition had lasted three hours at the time she was eliminated by the word "interment" (an entombment or burial). The competition was her third opportunity to represent Hempstead County in the statewide event to chose the Arkansas representative to the Scripps National Spelling Bee in Washington, D.C.
"I'm going to try, again, next year," Brown said.
Contestants must be under the age of 16 and have not advanced beyond the eighth grade.
Brown uses a visual technique in which she spells each word with her finger on her open palm before spelling it aloud. She has said the tool allows her to visualize the spelling to determine whether it appears correct.
The Conway competition brought 61 students from 75 counties together for the epic spelling challenge. Fort Smith Eighth-grader Haris Rana won first place with the word "chasuble" (a long, sleeveless vestment worn over the alb by the celebrant at Mass). Faizan Parray, of Pulaski County, won second place.
The statewide competition is sponsored each year by the Arkansas Democrat-Gazette in conjunction with the E. W. Scripps Company, sponsor of the national contest.