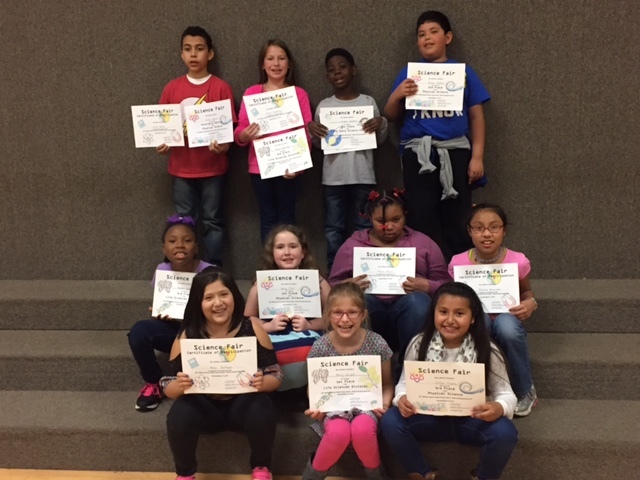 Third grade Science Fair winners named
Ken McLemore, Hope Public Schools
Friday, March 10, 2017
HOPE – Third and fourth grade students in the Gifted and Talented Program at Clinton Primary School were recognized Wednesday at the CPS Science Fair.
A total of 36 exhibits were displayed from which winners in places one through three were selected in three categories, including Life Science, Earth and Space Science, and Physical Science.
Projects were varied, from studying the density properties of various candies, to demonstrating how to distill fresh water by solar power, to determining how much moisture different varieties of beans require to germinate and grow
"We appreciate all of the hard work these students put into their projects," GT Teacher Alvis Conway said during the presentations.
Eleven third grade students participated in the showing and 25 fourth grade students exhibited projects.
Third grade winners by category included:
Life Science – "Will Candy Sink or Float?" by Marly Wright, first place; "What's Poppin' or Not?" by Grace Easterling, second place; and, "Life Cycle of a Butterfly" by Myrakal Ogden, third place.
Physical Science – "Solar Water Distillation" by Bailey O'Dell, first place; "Crystals" by Khaleb Salazar, second place; and, "Amazing Blowing Balloon" by Joelys Salazar, third place. Honorable mention went to "Noemi's Lava Lamp" by Noemi Castrejon, and "Potato Watch" by Erick Salazar.
Earth and Space Science – "Volcano" by Jaydon Sanders, first place; "Super Cells Forming" by Esmirna Navarrete, second place; and, "Volcano" by Keona Brown, third place.