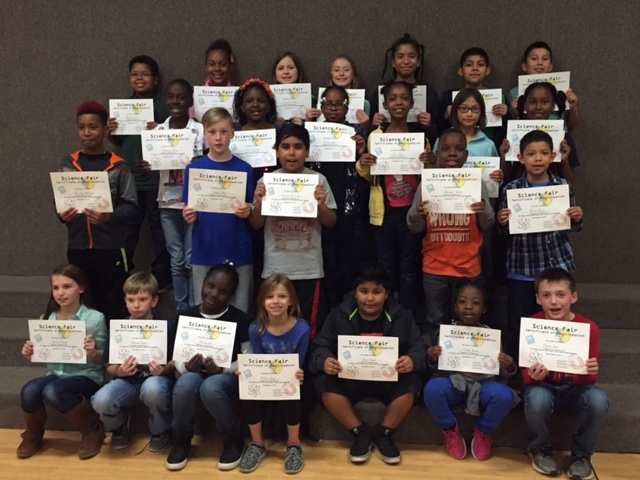 Fourth grade Science Fair winners named
Ken McLemore, Hope Public Schools
Friday, March 10, 2017
HOPE – Third and fourth grade students in the Gifted and Talented Program at Clinton Primary School were recognized Wednesday at the CPS Science Fair.
A total of 36 exhibits were displayed from which winners in places one through three were selected in three categories, including Life Science, Earth and Space Science, and Physical Science.
Projects were varied, from studying the density properties of various candies, to demonstrating how to distill fresh water by solar power, to determining how much moisture different varieties of beans require to germinate and grow
"We appreciate all of the hard work these students put into their projects," GT Teacher Alvis Conway said during the presentations.
Eleven third grade students participated in the showing and 25 fourth grade students exhibited projects.
Fourth grade winners by category included:
Life Science – "Which Bean is Thirstier?" by Brian Jiminez, first place; "Is It Pure Honey?" by Kennedy Phillips, second place; and "Floating Water" by TaNaisa Young, third place. Given honorable mention was "Do Dogs Have Sense of Direction?" by Jena Brown.
Physical Science – "Glowing, Bouncy Egg" by Braiden Lowe, first place; "Gummy Bears Osmosis" by Adison Miley, second place; and, "The Quicker Picker Upper" by Aubrey Hart, third place. Honorable mention was awarded to "How to Turn Milk Into Stone" by Wynter Smith.
Participation mention was given to "Magnetic Slime" by Cesar Marquez; "Lightning in a Glass Jar" by Fabian Aguilar; "Can Pepper be Separated by Using Three Things?" by Anayah Thornton; "Rainbow in a Bottle" by Patrick Stovall; "Salt Surprise" by Trenton Hart; "Balloon Rocket" by Arrington Turner; "Will it Dissolve?" by Serenity Robinson; "Leak or Not" by Justis Prater; "Popcorn" by Savannah Adams; "Elephant Toothpaste" by Camden Green; "Will it Fill?' by Braydon Russell; "Hot, Hot Crayons" by Tyrenda Hale; "Blowing Bubbles" by Harley Helmick; "Blow Out" by Jamia Sanders; and "Bottle Pressure" by Aaron Vargas.
Earth and Space Science – "How do Clouds Form?" by Angelica Soto, first place and "Volcanoes" by Gustavo DeLaRosa, second place.