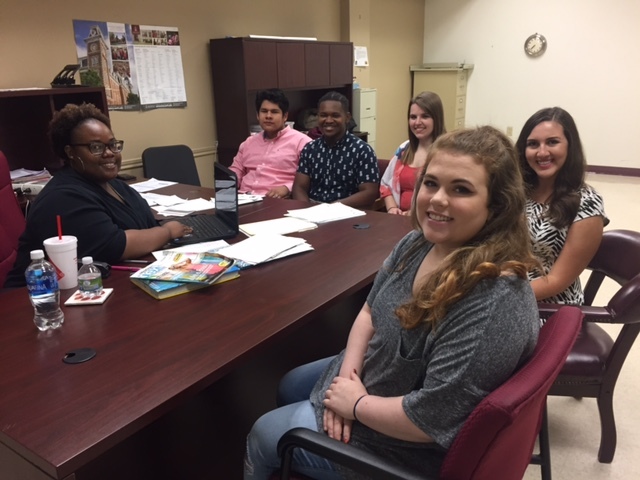 Concurrent studies catch on at HHS
Ken McLemore, Hope Public Schools
Thursday, June 01, 2017
HOPE – It has been the best kept secret in public education that Hope Public Schools educators want every student to know. And, now, the HPS Concurrent Studies Program is catching on, with current students in the program compiling 679 hours of college credit… free.
Any HHS student may apply for concurrent studies admission at the University of Arkansas Hope-Texarkana.
Concurrent studies students must maintain a 2.75 overall GPA in all HHS classes in the subject area of concurrent enrollment, or a 3.00 GPA in all HHS work. Ninth grade students must be similarly eligible in courses taken the two previous school years, according to UAHT requirements.
Students must also score a 19 or higher on the American College Test Reading sub-test, or scores on Explore or Plan assessments projected to produce a 19 on the ACTR; or, equivalent scores on the SAT, Compass, or Asset test to enroll in general concurrent studies, except college algebra, according to the UAHT website.
Both English and college algebra classes require a 19 or higher on the ACT English and Reading or ACT math sub-test; or comparable Compass test scores, according to UAHT requirements.
The program at UAHT has been re-accredited by the National Alliance of Concurrent Enrollment Partnerships, and is one of only 105 such programs nationwide.
Twenty students in the program have completed sufficient studies to be awarded Certified Nursing Assistant professional status this year.
Five of the 54 HHS students in the program had completed 171 hours of college credit between them when they graduated from Hope High School on May 12.
Most of the five students were able to complete virtually all of their high school course work by the end of the fall semester of their senior year. Consequently, the course load which they have maintained since entering the concurrent studies program in their 10th grade year has allowed them to focus on college graduation.
"I finished all my math last semester," Summer Pauley, daughter of Jason and Mandy Pauley, said. "Lots of classes that used to be offered in high school aren't offered anymore."
That difference has allowed Pauley to complete general requirements toward a bachelor's degree early, since she intends to study psychology and sociology at Arkansas Tech University in Russellville.
But, while college credit completed at UAHT is automatically transferable to any state college or university in Arkansas, that isn't necessarily the most attractive aspect of the program.
"I know that my parents don't have a lot to send me to college with," Devron Collins, son of Harold and Dwonna Collins, said.
The savings resulting from free tuition for concurrent studies students will cut Collins' ultimate college costs substantially, allowing scholarships he hopes to obtain to go much farther when he studies graphic design and political science at the University of Central Arkansas in Conway.
Completing required college freshman and sophomore work early, which also applies toward high school graduation, has helped Mackenzie Lafferty, daughter of Doug Lafferty and Mandy Drews, plan her academics at Ouachita Baptist University in Arkadelphia.
"It looks responsible on your transcript," said Lafferty, who plans to major in communication sciences and disorders. "When I get to Ouachita, I have to know what my major is going to be."
Academic excellence early also pays off later, prospective nursing student Elizabeth Smelley said.
"It will help me qualify for Phi Betta Kappa, which looks good on your transcript," Smelley, daughter of Ricky and Stephanie Smlley said.
And, having established an academic record early will bolster opportunities for professional studies, such as nursing.
"Especially, if you're going into the medical field," said Smelley, who plans to attend Arkansas Tech University.
But, the opportunity itself, albeit free, is what attracted Luna to the concurrent studies program.
The son of Sebastian and Eli Luna, he has amassed 51 concurrent credit hours; only nine course hours away from an associate's degree. Luna, who plans to study economics and political science at the University of Arkansas at Little Rock, said he did not realize the opportunity existed until he took the ACT in his sophomore year.
"Now, I'm helping someone set up a schedule," he said.
The advantage of an environment at UAHT that is more attuned to student success than it might be at a four-year college or university impressed all five students.
"It's not as hard as you think it's going to be; but, you have to be disciplined," Smelley said
"And, it is time consuming to do the work," Collins offered. "But, the professors really want you to succeed; they will go out of their way to help you. And, that really wasn't something that I had heard before."
Class sizes at UAHT are smaller than on a four-year college or university campus.
"It's not as intimidating," Pauley said.
"The professors work with you in your schedule as best they can," Smelley said.
Pauley agreed that the program has not been widely known among students. Her younger brother, who scored a 31 on the ACT in his first sitting, didn't know the possibilities until she explained the program to him.
"Even now, I tell him about all the scholarships and opportunities," Pauley said. "I still don't know that he gets it yet."
She said any HHS student who wants to go to college can do so through the concurrent studies program.
"If you have the scores and the brains, you should go," Pauley said.