Osorto says music 'connects'
Ken McLemore, Hope Public Schools
Friday, September 01, 2017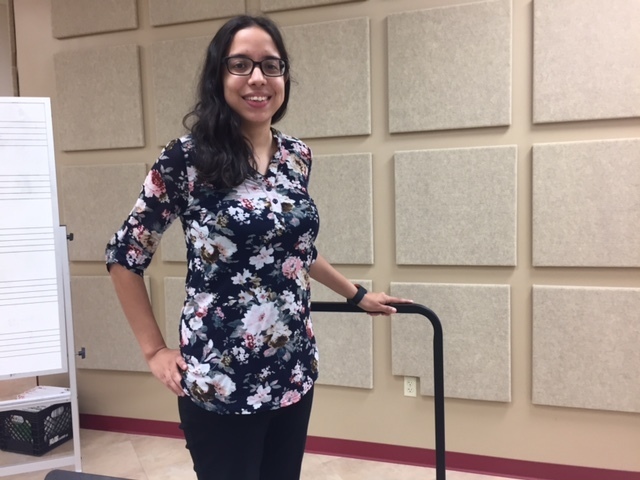 HOPE – Jessica Osorto's philosophy of music is built upon its ability to connect people, a concept she helps her general music and beginning band students understand.
"It's a metaphor for life," Osorto said. "It can be tough at the beginning, but it's great at the end."
Osorto will be in charge of the K-4 general music program at Clinton Primary School and will work with fifth and sixth grade students in the beginning band program.
"I know this program has had a great history, and I look forward to working in it," she said.
A graduate of Arkansas Tech University in Russellville, Osorto holds a Bachelor of Music Education degree and specializes in clarinet. She is a member of Tau Beta Sigma and Sigma Alpha Iota, as well as the National Association of Music Educators.
Osorto will assist with the summer band, after school marching and marching season preparation for the Hope bands program, as well as teaching fundamental choral music.
"You're doing the same things in choral; it's just that in instrumental, you have something in your hand," she said
She likes the idea of a fully-integrated music program.
"You're never alone; you always have somebody to help," Osorto said, taking a note from the famous Harry Potter line.
She said the general music program will be a progression, beginning in kindergarten with learning about music and the concept of a "beat." First graders will learn to apply beat to rhythm, and, second graders will begin the transition to notation. Third and fourth grade students will apply notation in rhythm to instrumentation, Osorto said.
Beginning band students will take those concepts and apply them to group performance, she said.
"The beginning students want so much to learn; they are definitely more lively," she said. "But, the fundamentals go all the way back to kindergarten."
Osorto will also be responsible for teaching "performance etiquette" to her students to prepare them for public performances.