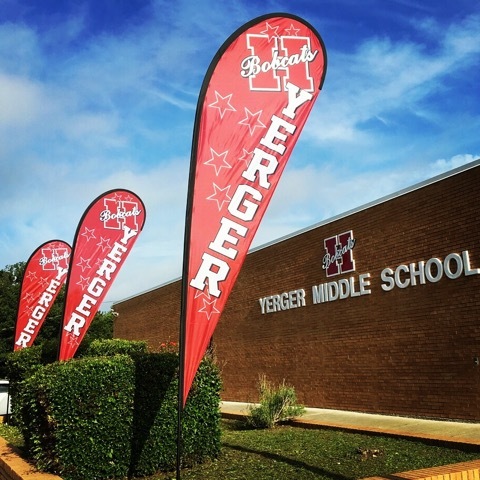 Yerger News Online
Ken McLemore
Tuesday, September 26, 2017
FBLA: Yerger Middle School's Future Business Leaders of America (FBLA) is starting up for our 3rd year! This year we have 29 members! FBLA's mission is to bring business and education together in a positive working relationship through innovative leadership and career development programs. We are taking 25 members to the FBLA Fall Conference on October 10th at Henderson State University. We will instal our officers and listen to a guest speaker. Congratulations to our 2017-2018 Officers-Leslie Rodriguez: President, Gustavo Gallardo: Vice President, Rocio Martinez: Treasurer, Jadora Rivera: Historian and Krystal Vasquez: Secretary.
YMS Updates: YMS got a major facelift this year! Gone are the old desks and in are brand new desks and chairs! Both staff and students have been working hard to get all the new desks set up in each room. Students are excited about being the first group to use the brand new desks. Even the cafeteria looks like a whole new room. Filled with new booths and tables students enjoy having different options to sit at both before school and at lunch. Thank you to the HPS School Board!
That's What I Like: Student Column: My favorite thing. What is anime? Anime is a style of japanese film and television animated.The word "Anime" was produced from the word "Japanimation" which means Japanese animation. The word Anime became popular around the 1980's. Anime has more detailed characters than American cartoons. Anime was founded in Japan around the 1900s. Anime has a series of different themed shows. For example, if you wanted to watch a sport anime you should watch "Free!" or if you wanted to watch something with battles you would watch "Sword Art Online". These are just some of the many amazing anime shows. - Brenda Chevaz
Noble Impact: YMS is introducing Noble Impact this year as a new class! What is Noble Impact? Noble Impact is a worldwide program where students can put their ideas into the world and make a difference. These students help put together organizations to help the ones in need. For example, if a group of Noble Impact students wanted to donate to the Red Cross organization, they would bring a jar to school and let all the students donate money for the program for a certain amount of days or weeks. When the deadline comes to an end, then they will take the money and give them to the organization. This is just one of the many things Noble Impact does for the community.
October 2017

1.

2.

3. Cirque Zuma Zuma- Hempstead Hall, 7th grade

4. Early Release

5. Yerger Alumni Pep Rally, 3:00pm

HOME Football vs, Lakeside, 5:30pm

6. YMS College Day

7.

8.

9. Flu Shots at YMS

10. FBLA Fall Leadership Conference

11. 8th Grade Trip to Cooper Tire

12.

13.

14.

15.

16.

17.

18.

19. ACT ASPIRE INTERIM I

20. KONA ICE STRIVE for 5

21.

22.

23. Picture Retake Day

24.

25.

26. Chamber Coffee Parent/ Teacher Conferences

27. School Closed

28.

29.

30.

31. Happy Halloween!