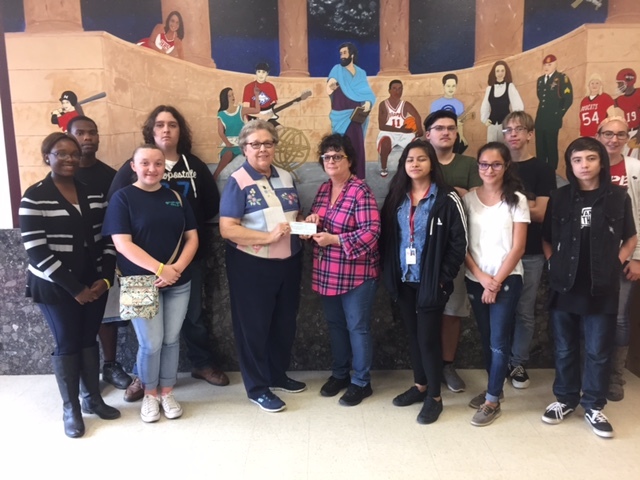 HHS Robotics Team gets grant
Ken McLemore, Hope Public Schools
Monday, November 06, 2017
HOPE – The quest of the Hope High School Robotics Team to continue its competition year was boosted by the local chapter of Delta Kappa Gamma Society International through a $500 grant to the school team.
Kathryn Dickinson, treasurer for Alpha Delta Chapter, assisted the HHS in applying for the grant from the Kappa State Education Foundation. The funds were awarded by Dickinson, representing the local chapter, to robotics team sponsor Kathy Knight and members of the team on Oct. 20.
"The purpose and goals of Hope High robotics are to support, encourage and advance the robotics program and related activities of Hope High School as well as to promote STEM (Science, Technology, Engineering, Math) education, including women in STEM," Knight said.
The $500 grant will be put toward the purchase of supplies and competition expenses, she said.
The 25-member team is currently involved in raising funds while working on competition design and presentation.
Competition fees, construction costs and travel expenses are expected to require some $5,000 which the team hopes to raise through six sponsorship levels, including: Bronze (up to $99.99); Silver ($100 - $249.99); Gold ($250-749.99); Titanium ($750-$999.99); Platinum ($1,000 - $2,500); and Diamond ($2,500 and above).
Additional sponsorships are needed to provide items such as a heavy duty utility cart for robot transport to competitions, cordless power tools, rolling tool box for competition use, and other construction phase materials. Supply lists are available from Knight at kathy.knight@hpsdistrict.org online.
Mentor volunteers are also needed in the areas of marketing, programming, mechanics, computer assisted design, fabrication, and business/budgeting, Knight said.
The team's next competition is Nov. 4 in Little Rock at the Boosting Engineering, Science and Technology (BEST) contest. Plans call for participation in March in the For Inspiration and Recognition of Science and Technology (FIRST) competition, according to Knight.