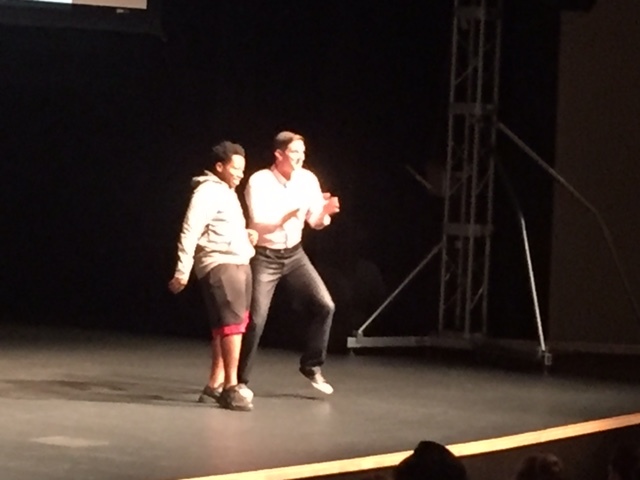 Vitale brings Peak U to Hope
Ken McLemore, Hope Public Schools
Thursday, November 30, 2017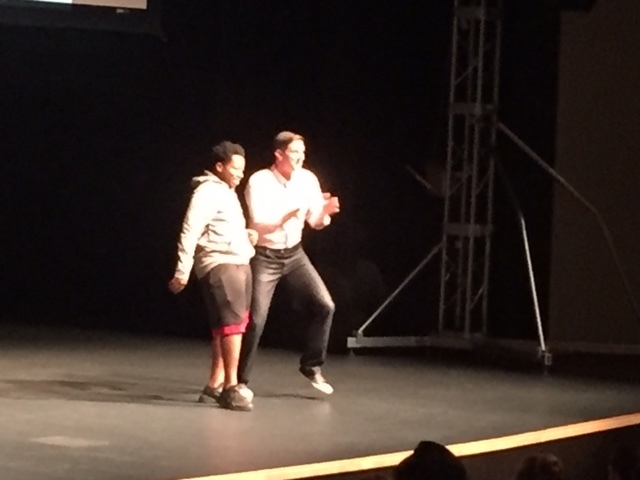 HOPE – A 90-minute dialogue, pep rally, and motivational speech by nationally recognized personal development mentor Paul Vitale resonated with more than a thousand high school students from Hope, Prescott and Lafayette County school districts here.
Speaking to the entire student body of Hope High School as well as students from Prescott High School, Nevada Public Schools, Spring Hill Public Schools and Lafayette County High School, Vitale presented his Peak University to a packed house at Hempstead Hall on the University of Arkansas - Hope campus.
"The reality is this," Vitale said. "You are the generation that will influence my seven-year old daughter."
With that in mind, he said the session was as much about him learning from the students as it was their learning from him. Vitale challenged the students to "show up," to "find your excitement", and to "participate" in their individual destinies.
"Don't let anybody shut you down," he said.
Vitale said that he wanted to "keep it real" with the students.
"You can choose to listen or not; just do this: let others around you listen, if they want," he said. "We are talking about real life stuff."
Vitale admitted that he should not expect the students to listen without remaining aware of their individual lives and needs.
"I get it," he said. "Some of you are just trying to figure out how to make it through the day."
Vitale said individual home settings, whether broken, abusive, impoverished or not had already been overcome for the day.
"You have already made a difference because you simply showed up today," he said. "We are here today to get a little better."
He challenged each student to claim their destiny.
"Seniors, you have earned this moment," Vitale said. "This is your moment; expect your best this year. Juniors, you are in one of the most challenging years of your journey. Are you satisfied with where you are today? Sophomores, you are in a transition, and work it with the best of your ability. Freshmen, you have my respect. This is a tough year, but you can get through it."
Vitale told the students that research drives much of what any future employer will consider in hiring them; and, most employers today want workers, managers and associates who have highly-developed "soft skills," or the kinds of skills that produce practical solutions to everyday work problems.
"Everything that has happened in your life is now history," he said.
Vitale challenged the students to win daily victories by getting rid of obstacles of pride and ego and learning to make each day count.
"The workforce and business is begging for students who can pass a drug test," he said.
Using volunteers from the audience to illustrate points along the way, Vitale took the students through a 90-minute self-examination designed to produce awareness of individual competence. The presentation is based from Vitale's extensive work with organizations such as The National Football League, Walmart, ESPN, the Los Angeles Rams, Southwest Airlines, Dole Hong Kong, the United States Chamber of Commerce, Tyson Foods, the Arizona Cardinals and others.
A native of Arkansas, Vitale is the founder of Vital Communications, Inc., and he holds a degree in mass communications and journalism from the University of Central Arkansas in Conway. He is the former director of the Convention and Visitors Bureau of Hot Springs, and prior to that Vitale was employed by Cranford Johnson Robinson Woods, the largest marketing firm in Arkansas, where he was responsible for the State of Arkansas' tourism promotion.
A best-selling author as well as personal development mentor, Vitale has written personal development curriculums which are in use across the nation, and he has been featured on national and cable-based television networks from NBC, ABC to Fox and others. He is a volunteer for Big Brothers/Big Sisters, the March of Dimes, and the Arkansas Hospitality Association, among others. Vitale also serves on the boards of the Pro Football Hall of Fame's Game for Life National Advisory Board, the Arkansas Travel Council, and the Los Angeles Rams Training Academy Leadership Board, among others.
The local presentation was made possible through the Southwest Arkansas Education Cooperative.