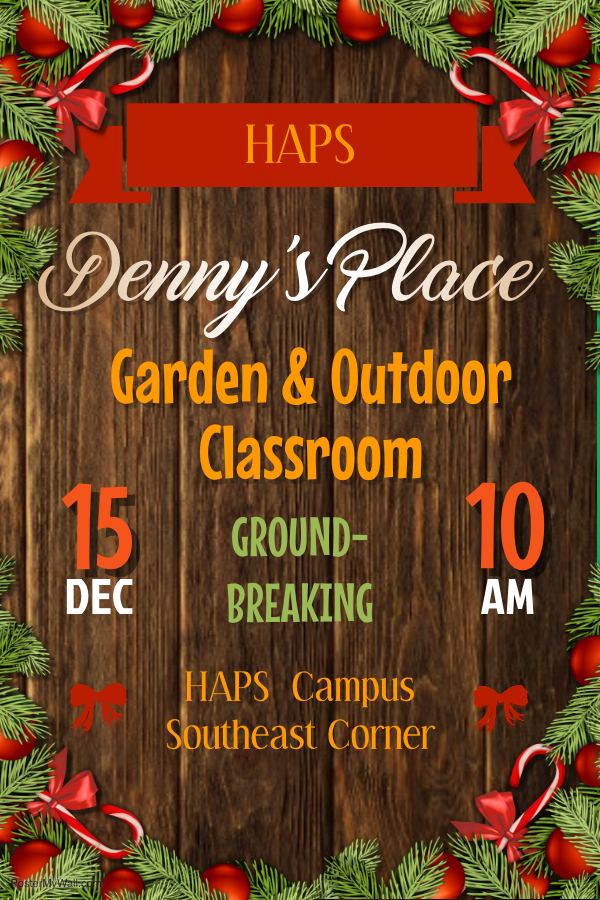 Event to start 'outdoor classroom'
Ken McLemore, Hope Public Schools
Tuesday, December 12, 2017
HOPE – Students and faculty at the Hope Academy of Public Service will break ground Friday morning for the construction of Denny's Place, an outdoor classroom space honoring the late Denver L. "Denny" Dickinson.
Dickinson, of Guernsey, served as a member of the Hope Public Schools Board for 15 years prior to his passing in September. The ceremony turning the first spades of soil for the construction of the unique classroom space is set for 10 a.m. at the HAPS campus on Sixth Street.
HAPS Principal Dr. Carol Ann Duke said the project is a collaboration between HAPS students and the Hempstead County Master Garderners of the University of Arkansas Cooperative Extension Service.
"Last year, the Master Gardeners came to us to see if we were interested in an outdoor classroom," Duke said. "They did the weeding of the location last spring."
She said students became interested in the project largely because of home gardens which their parents plant.
The raised bed garden will be configured in the shape of the letter "H" and will be part of a classroom unit that will include an "outdoor classroom" with storage, Duke said. She said the design concept was developed by students in the HAPS Environmental and Spacial Technology (EAST) program.
"The students will determine the things that will grow well," Duke said. "They hope to be able to plant by March."
She said the garden will feature at least six planting spaces which will be surrounded in the total configuration by tiles sponsored by donors to the project. Single tiles are $5 each and groups of five may be obtained for $20. The tiles will be painted and marked with the name and business logo of sponsoring donors.
"We are going to have a pollination bed, too, for the bees," Duke said.
The unit's "outdoor classroom" will include a covering and benches for students to work on earth science studies.
Duke said "vintage" tools and implements will be used not only to decorate the classroom space, but to provide some historical insights to students. She said donations of such items are welcomed as are donations of new or "usable" gardening tools and implements.
Duke said the site will be plumbed to provide misting for each planting box. A banner will mark the construction site and designate the classroom space, she said.
Individuals, businesses, or organizations interested in purchasing donor tiles or contributing materials or tools to the project should contact Duke at 870-722-2700, ext. 401, during regular school hours.