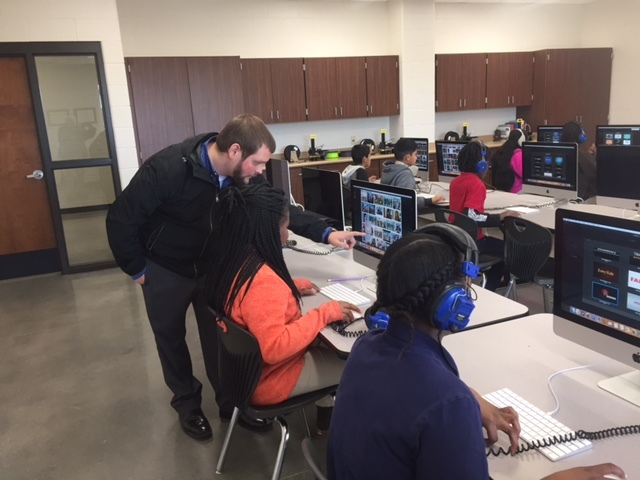 BHE Coding Classes Go Hollywood
Ken McLemore, Hope Public Schools
Friday, December 22, 2017
BHE coding classes go Hollywood
HOPE – Coming this spring from a student near you… (cue exciting music)… from the school that brought you the first Beryl Henry Elementary School coding class… (high tech image flashes across screen)… it's BHE MOVIE TRAILERS.
Movie trailers, those two or three minute mashups of plot, sound, and music that are meant to generate audience appeal for upcoming films, are almost as old as the movie industry. The general source Wikipedia notes that of some 10 billion videos viewed online annually, movie trailers rank third behind news and online user content.
So, in an era when almost anyone with a high-quality digital camera and a computer can produce a viable film online, Daniel Hampton's coding classes at BHE are learning how to use current technology to reach beyond their classroom.
"They won't finish this for a while," Hampton said. "It's going to require some time; and, they only get in here 30 minutes a week."
But, within that 30 minutes each week, Hampton is leading his classes through the best ways to represent, collect, and arrange data with the use of digital tools in a new computer lab that opened this year at BHE as part of a $4 million academic and arts expansion on campus.
Popular themes include the Star Wars franchise, television series' such as Nickelodeon's "I, Frankie," animation such as "Alvin and the Chipmunks, and the newest versions of video games.
"They can do almost anything from books, movies and TV to games," Hampton said. "They can choose the story."
The process requires selection of a story line with available visual content online and the compilation of visual images from that story as the heart of the trailer. Hampton directs students to select at least 30 images from which to work; then, they must either write or compile narrative copy to reflect the story. That part of the process will require the use of software known as "imovie."
Students create a studio credit for their film story, as well as a movie title and other credits and add all of the information to a "storyboard" which guides each step in the process.
The "storyboard" matches images, whether still or video, with their respective portion of the trailer to create the visual montage that will become the finished product.
Hampton said his students are warming to the project.
"This requires them to be active, to get their hands in there and work on it," he said. "They're starting to take off."