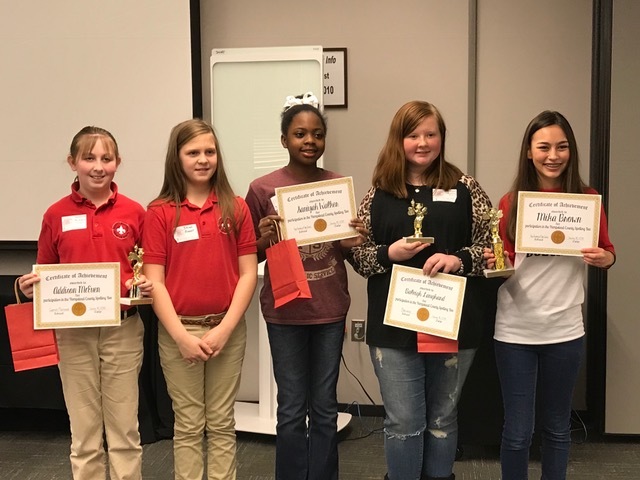 Brown takes fourth local spelling title
Ken McLemore, Hope Public Schools
Wednesday, January 31, 2018
HOPE – Mika Brown is four for four at the Hempstead County Spelling Bee.
Brown won her fourth straight countywide championship title Jan. 25 from a field of 44 students in grades 4-8 from Hope, Blevins, Spring Hill and Garrett Memorial Christian schools.
She represented Hope Academy of Public Service, and will represent Hempstead County in the Arkansas Spelling Bee at Central Baptist College in Conway on March 10.
Brown, an eighth grade student, has won the county championship each year since her fifth grade year when she competed for Beryl Henry Elementary School. This year will mark her final year of eligibility in the contest, after she took third place in the statewide spelling bee last year.
Brown is noted for using a visual technique in which spells out each word that gives her difficulty on her left hand with her finger before officially spelling it aloud. The technique allows her to visualize the word and decide whether it "looks" correct.
Brown also frequently uses the tools allowed in the competition where students are permitted to ask for the "language of origin" of a word, or the use of a word in a sentence, to determine spelling subtleties that are not evident in the pronunciation of a word.
Second place was won by Addison McEuen, a fourth grade student from Garrett Memorial Christian School, who will compete at the state meet should Brown not be able to do so.
A tie was declared in third place between Bailey Laughard, a sixth grader from Blevins, and fifth grader Jillian Pinner, representing Garrett Memorial Christian School.
Grade level winners were Brown, eighth grade; Saniyah Walker (HAPS) seventh grade; Laughard, sixth grade; Pinner, fifth grade; and, McEuen, fourth grade.
The countywide contest was conducted at the Southwest Arkansas Education Cooperative building on the University of Arkansas – Hope campus.
The annual competition is sponsored statewide by The Arkansas Democrat-Gazette in conjunction with the Scripps National Spelling Bee, sponsored by the E. W. Scripps Company. The Little Rock newspaper has sponsored the state contest since 1992.
The contest is limited to students under age 16 who have not advanced beyond the eighth grade.