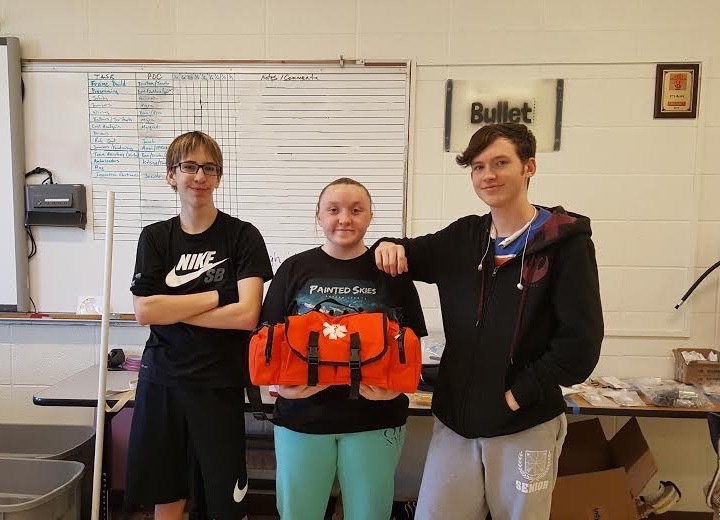 Donations build Robotics aid
Ken McLemore, Hope Public Schools
Thursday, February 15, 2018
HOPE – Robotics students at Hope High School were given a boost by Pafford Emergency Medical Services of Hope and The Wall Center in Shreveport, raising just over $3,500 for the student competition team.
HHS faculty sponsor Kathy Knight said Pafford donated $500, plus a complete travel safety/first aid package to become a Gold Level sponsor for HHS robotics.
"The HHS Botcats would like to thank Pafford for their Gold Level sponsorship, as well as their donation of an awesome safety kit," Knight said.
Knight said the robotics program also qualified to participate in the Wall Center Gives Back to ArkLaTex Teachers $10,000 Campaign, raising more than $3,000 for the program.
"The Wall Center set up a GoFundMe account for the ArkLaTex teachers to use for fundraising," she said. "Only funds raised through the official GoFundMe program page between November 29 and December 13 were eligible for the dollar for dollar match."
The Botcats raised $1,504.04 in qualifying funding, Knight said. The funding match produced the first Platinum Level sponsor for the program, she said.
"A big thank you goes out to The Wall Center of Shreveport," she said.
Competition fees, construction costs and travel expenses are expected to require some $5,000 which the team hopes to raise through six sponsorship levels, including: Bronze (up to $99.99); Silver ($100 - $249.99); Gold ($250-749.99); Titanium ($750-$999.99); Platinum ($1,000 - $2,500); and Diamond ($2,500 and above).
Additional sponsorships are needed to provide items such as a heavy duty utility cart for robot transport to competitions, cordless power tools, rolling tool box for competition use, and other construction phase materials. Supply lists are available from Knight at kathy.knight@hpsdistrict.org online. Mentor volunteers are also needed in the areas of marketing, programming, mechanics, computer assisted design, fabrication, and business/budgeting, Knight said.