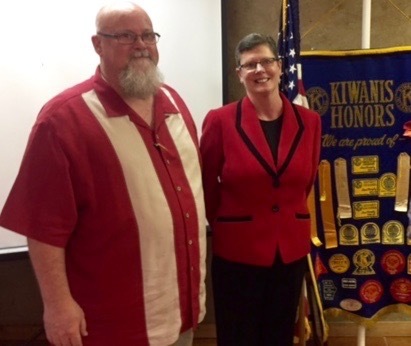 HHS academic life expanding
Ken McLemore, Hope Public Schools
Wednesday, March 07, 2018
HOPE – Students at Hope High School have more academic opportunities now than at any time in the school's history, HHS Principal Bill Hoglund told Hope Kiwanis Club members here recently.
"There are lots of interesting things going on in the Hope Public Schools," Hoglund said.
He highlighted the recent Math Day at HHS, which took 9th-11th grade students through an entire day of math-related activities with both academic and practical applications. Hoglund said the program was organized by HHS Math Specialist Judee Gunter in a collaboration with the mathematics department at Southern Arkansas University in Magnolia.
Thirty SAU math students guided HHS students through stations in various classrooms at HHS dealing with rational and irrational numbers; math in engineering; geometry theory; probabilities theory; and money math.
"It worked out better than I thought it would," Hoglund noted.
He said there are opportunities for HHS students to advance their education at the collegiate level while in high school through concurrent studies classes at the University of Arkansas Hope-Texarkana.
Among the graduating seniors of the Class of 2017, 53 students earned at least three credit hours of college studies last year, Hoglund said. Total college credit earned by the Class of 2017 was 800 hours.
Hoglund said the opportunity is for every student because the course offerings are free, including night classes.
He said the school district is also currently developing an initiative with UAHT to establish a collegiate and professions academy on the UAHT Hope campus for 10th -12th grade students.
HHS business and technical studies teacher Terri Hoglund said high school students have a great variety of life skills and technical academics opportunities including computer coding classes which have practical applications in developing electronic applications programs.
Mrs. Hoglund said students at HHS will have the opportunity to apply those skills in developing mobile device applications through a program for high school classes.
"I've written a grant to get the equipment they will need," she said.
Mrs. Hoglund said HHS Environmental and Spatial Technology (EAST) lab students are developing unique projects which incorporate real world skills, while the Noble 101 class, based upon the national Noble Impact model, allows students to develop a wider sense of how their lives are affected by community and can affect a community.
The HHS Robotics Team, under the primary sponsorship of Kathy Knight, is in its third year as an established class that teaches engineering principles and a club that engages in competition applications.
Mrs. Hoglund also highlighted the Orientation to Teaching class at HHS, which is developing a local corps of future teachers for Hope.
"It's a grow our own concept," she said.