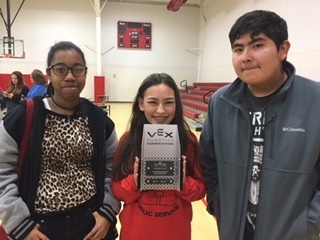 HAPS robotics takes title
Ken McLemore, Hope Public Schools
Wednesday, March 07, 2018
HOPE – The Hope Academy of Public Service eighth grade robotics team brought home the school's first-ever competition trophy.
The HAPS team won the Vilonia Eagle Engineering VEX Tournament held in Vilonia, Arkansas, in February.
Based upon the VEX EDR Robotics concept developed by Innovation First International's VEX Robotics division, the contest was centered upon collaboration and problem solving, two key components of the VEX concept.
"The tournament was the second competition for the team, and the win assured them of a spot in the state VEX tournament to be held on the campus of Arkansas Tech University at Russellville on March 3," HAPS robotics co-coach Carol Hendrix said.
The VEX Robotics competition utilizes concept design robots built from VEX kits which allow student teams to vary their designs and robotic functions to meet a need.
"VEX Robotics is a skill-based competition emphasizing teamwork and problem solving," Hendrix said. "Team alliances moved game pieces strategically for points in various sections of a 12-foot by 12-foot game field."
According to the contest concept, two alliances, red and blue, composed of two teams each, compete in 15-second autonomous action, followed by a one minute, forty-five second driver-controlled match.
"The object of the game is to attain a higher score than the opposing alliance by stacking cones on goals; by scoring mobile goals in goal zones; by having the highest stacks; and by parking robots," the competition website notes.
Points are scored based upon the total number of cones in each stack, highest stack in a zone, and the number of mobile goals scored in 5, 10, and 20-point zones on the playing field.
Hendrix and co-coach Bradford Stephens sponsor the HAPS Robotics Team, which includes Alecia Bradley, Mika Brown, Juan Leon, Timothy Minney, Joseph Postlewait, Sergio Martinez, Yahi Jimenez, Lili-Ann Adamson, Jaelyn Lara, Jacquelin Jimenez, Carter Berry, Brian Martinez, Cesar Marquez, Jesse Barton, Jena Brown, Katie Arroyo, Sarahi Acosta, Jose Martinez, Aaron Smith, Fabian Aguilar, Jamesha Sorrells, and Amber Cisneros.