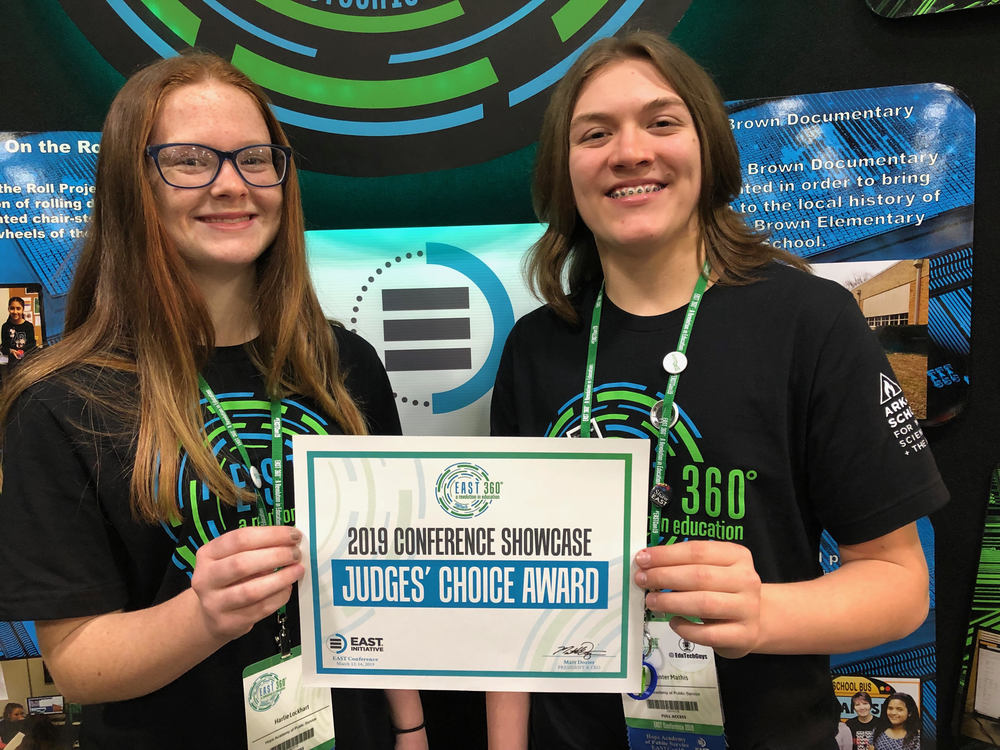 HAPS EAST named 'Judges' Choice'
Ken McLemore, Hope Public Schools
Friday, March 15, 2019
The Hope Academy of Public Service EAST (Environmental and Spatial Technology) program presentation team was named a "Judges' Choice" at the 2019 EAST Conference in Hot Springs.
More than 250 programs from schools across Arkansas were represented in the three-day competition March 12-14.
"HAPS EASTCon19 presenters Harlie Lockhart and Hunter Mathis wowed the judges at EASTCon19 in Hot Springs during the annual EAST Conference March 13," HAPS EAST Facilitator Jaqueline Brady said. "The teams of judges view between eight to ten programs during their evaluation process. The team who stood out, had the strongest presentation, and told their EAST program story best were voted the 'Judges' Choice Award.'"
Each EAST program presents an overview of its project year, which outlines the nature of each project and the results attained. Those projects are illustrated on a wall-sized panel planned and produced by the students as part of a booth representing their school. Representatives from each program team must explain each project and answer questions posed by the judges. Thirty-two programs were chosen as "Judges' Choice" presentations, Brady said.
"We are thrilled to have caught the eye of the judges and have plans to do so, again, next year," she said.
HAPS EAST team members included Lockhart, Mathis, Edith Dominguiz, Mika Brown, Kristin Morrison, Juan Leon, Richard Ware, and Collin Easterling.
"This is a great honor and definitely puts the Hope School District on the EAST Initiative's radar for greater things to come," Brady said.
The program has been in operations for two years at HAPS, which has been a campus of the Hope Public Schools for three years.
"Our students did a great job representing HSD at the 2019 EAST Conference," HAPS Principal Dr. Carol Ann Duke said. "I am so proud of Harlie Lockhart and Hunter Mathis; they lead the presentation team that earned HAPS the Judges' Choice Award for one of the best booths from among more than 250 booth presentations."