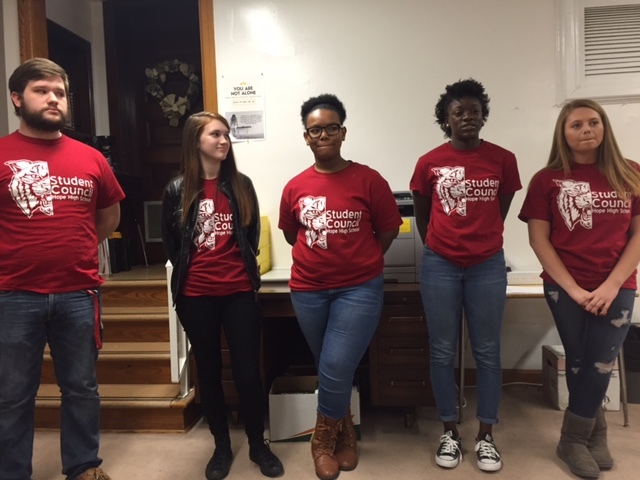 Student leaders address board
Ken McLemore
Wednesday, January 11, 2017
HOPE – The student leadership at Hope High School and a teacher preparation program sponsor addressed the Hope School Board at its December session with points about the future.
HHS Student Council Sponsor Lena Brown introduced the executive officers of the student government, including Phillip Knighton, president; Tristan Jones, vice president; Sydney Watson, secretary; Morgan Gray, treasurer; and, Elizabeth Bamber, associate secretary.
Knighton, a senior and son of Don and Kay Knighton, said the student leadership helps maintain communication between students and faculty.
Brown said the group is extremely important.
"These students are my right hand," she said.
Brown said the HHS Student Council is responsible for projects throughout the year, including homecoming, all-student talent show, prom, powder puff football, community service, and classroom assistance to teachers.
Jones is a junior, whose parents are Reginald and Erica Marsh; Watson, a senior, is the daughter of Maryann Zimmer; Gray, a junior, is the daughter of Lashonna Gray; and, Bamber, a junior, is the daughter of Anna Bamber. The entire student council has 16 members representing all four classes.
HHS Business Teacher Terri Hoglund introduced junior Beatriz Nava, a student in the Orientation to Teaching class at HHS, who is part of the Teacher Cadet program.
Hoglund said the Teacher Cadet program helps students who want to begin early preparation for the teaching field. She said the class and program require some 45 hours of classroom observation time across grade levels.
Hoglund currently has nine students in the Orientation to Teaching class who are all involved in the Teacher Cadet program.
"It's fun to watch them go through the program," she said. "
Nava plans to ultimately teach at the college level.
"It shows me a lot of how it can affect what I do as a teacher," she said of the program.
Asked by Board President Willie Buck for her strongest impression from the program, Nava said she was struck by its reality.
"I was impressed by how the teachers handled it all," she said.
Hope Superintendent Bobby Hart said the Teacher Cadet program is a means to grow new teachers locally. Hart said the concurrent credit students earn toward a college degree through the program has laid the groundwork for developing a local paraprofessional teaching resource.