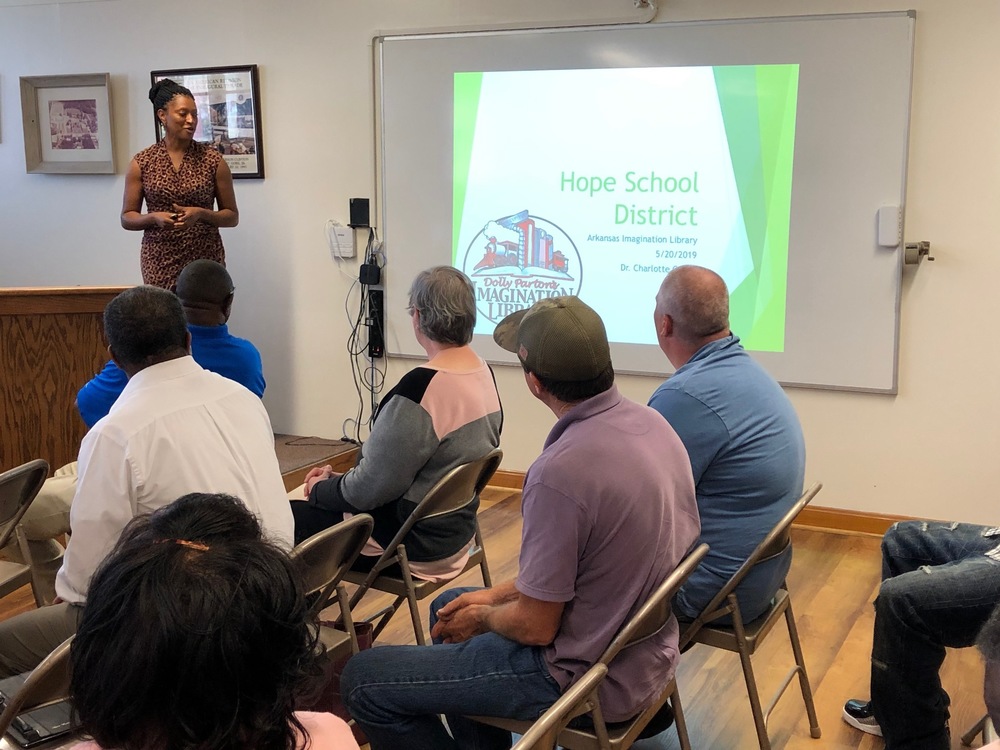 HPSD, Farmer's announce initiative
Ken McLemore, Hope Public Schools
Thursday, May 23, 2019
HOPE – The Hope Public School District and Farmer's Bank and Trust – Hope announced an early childhood literacy partnership Monday night through the Dolly Parton Imagination Library program.
HPSD Superintendent Dr. Bobby Hart made the announcement with Paul Ball, FBT Hope president, and FBT bankers Janet Choate and Jacob Jones, in conjunction with a presentation about the program by Dr. Charlotte Green, director of the Arkansas Imagination Library, a partner of the Dolly Parton national initiative.
"I commend the Hope Public Schools and Farmer's Bank for doing this," Dr. Green said.
FBT will fund $5,000 toward the first year of the operation of the program locally and has committed $2,500 over the remaining four years of the collaboration, Dr. Hart said.
Ball said the project is the sort of community effort FBT pursues, and is the closest thing to the "Bookmobile" library book program he enjoyed in the summers as a child.
Green's presentation emphasized that kind of early connection with reading, noting that Harvard Medical School research has shown that the human brain develops 85 percent of its permanent architecture by age five.
"And, the brain begins to prune itself by age two," she noted. "This is why two-year olds don't need a cell phone in their hands; they need a book. Kindergarten is too late to begin to have this conversation."
Green, assistant professor of education at the University of Central Arkansas in Conway, is a national consultant, author, and experienced teacher, principal and district administrator. She said the relationship between parental interaction with children, such as reading to them, in the formative first year of life through age five is vital to the foundation for a child's learning thereafter.
Green said the Dolly Parton Imagination Library builds upon that concept by providing books throughout the community free of charge to newborns through age five. The age-level appropriate books cost roughly $2 per month to provide through the program.
Local partners enroll children in their area at birth and maintain the supply of books and mailing costs through the five-year program.
One goal of the program in Hope is to improve grade-level reading abilities at an earlier age so that all students read at grade level by the third grade. Research connected with the program has shown a greater likelihood of continuing academic success when children read at that benchmark.
Also Monday, Clinton Primary School teachers Carmen Galvan and Travell Green, representing the HPSD Professional Development Team, gave the board an overview of the teacher development program for the district.
Green said the plan, themed "Hope Leads," emphasizes the excellence produced by the "hope" which education provides which "leads" to success in the classroom.
Galvan emphasized the strategic planning which has been part of the process to develop appropriate and successful classroom applications of best practices. She said teacher surveys have been employed to learn about what does and does not work; and, community partnership support has been vital to building confidence in teachers.
"It's great to see our businesses in the community helping," Galvan said.
She thanked local businesses including Amigo Juan Mexican Café, Tailgater's, Montgomery and Burke Law Firm, Hope Auto, O'Reilly's Auto Parts, Hope Floral, Wendy's, Anytime Fitness, Picket Fence, and Carmen Galvan, Lacey Robbins, Burke Decal and Pam Stone for their contributions.
HPSD Professional Development Team members include Hope High School Principal Bill Hoglund, Yerger Middle School Principal Josclyn Wiley, Beryl Henry Elementary School Principal Dr. Roy Turner, Hope Academy of Public Service Principal Dr. Carol Ann Duke, Shannon Hawthorne, HAPS faculty; Galvan, Green, Robbins, Tonya Fox, Patricia Fulton, Brandy Frohnappel, and Kaitlyn Marchese, Clinton Primary School faculty.
In other matters Monday, the board:
--Approved an excess inventory disposal list.
--Approved the purchase of high school science curriculum at $34,095.76.
--Approved a list of used vehicles for sale.
--Adopted a parental permission form for a study survey.
--Approved policies for dispensing Narcan and breastfeeding practices for the school-based health clinic at Hope High School.
--Approved a special education program budget summary.
--Approved an easement on the northeast corner of the HAPS campus for handicapped ramp sidewalk development by the City of Hope.
--Accepted on first reading updated student handbooks and district personnel policy updates.
--Approved a facility use request for the HHS Indoor Athletic Facility for a summer youth baseball program.
--Approved the district personnel recommendations by administration.