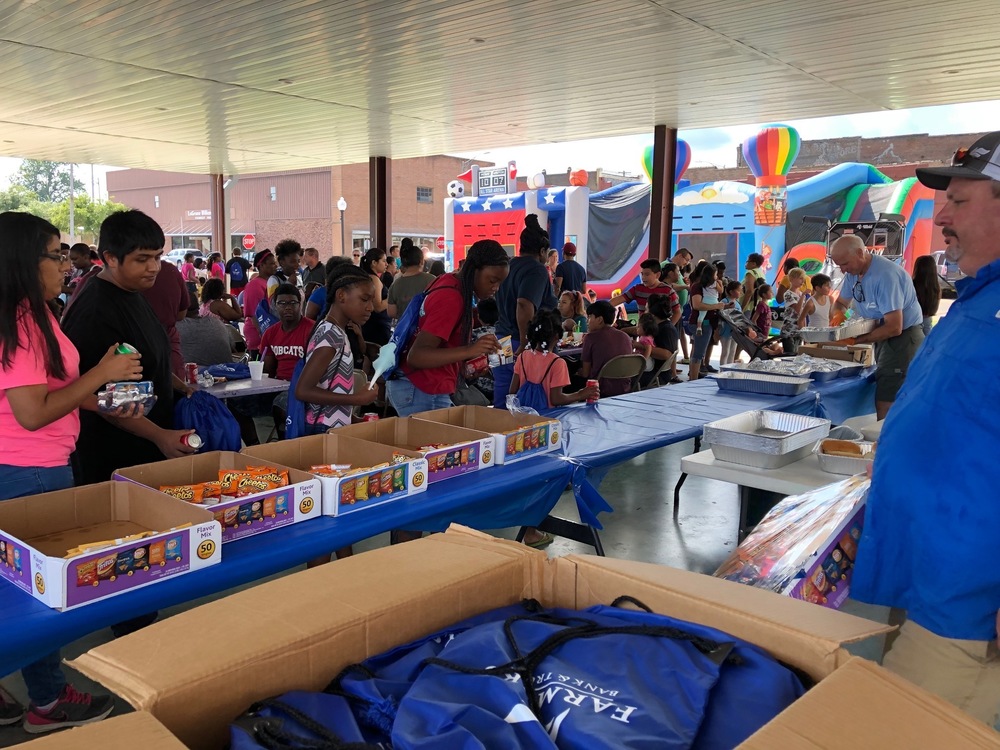 Bank event supports Back to School
Ken McLemore, Hope Public Schools
Wednesday, July 31, 2019
HOPE -- A "Back to School Bash" sponsored by Farmer's Bank and Trust in Hope brought hundreds of youngsters and families to The Hub in downtown Hope on Tuesday.
Hope Public Schools Superintendent Dr. Bobby Hart commended the bank for its commitment to public education and community spirit.
"I was blown away when I saw all the things the Farmers had arranged for, and the number of students and families that were downtown," Dr. Hart said. "We are fortunate to have Farmers, Junior Auxiliary and the Hempstead County Sheriff's Office, and others who are willing to give of their time and energy to help out community.
"Thanks for putting this event on; it has given our district some ideas for future events," he said.
FBT Hope Market President Paul Ball said the event was intended to help Hempstead County school students get started in the 2019-2020 year with some fun.
"A lot of planning went into it; and, it was a new experience for us," Ball said. "We were very satisfied and excited by the turnout. I had the comment from lots of people they loved seeing us out in the community. The employees did an outstanding job."
Ball also thanked the Hempstead County Sheriff's Department, which offered free cotton candy and popcorn, and the Junior Auxiliary of Hope, which provided free face painting, for their participation.
Youngsters and their families enjoyed free hot dogs with chips and drinks supplied by Farmer's Bank, and the bank gave away back packs filled with school supplies to each child. The bank also provided bounce houses, a snow cone concession, and carnival games for students to win additional school supplies.