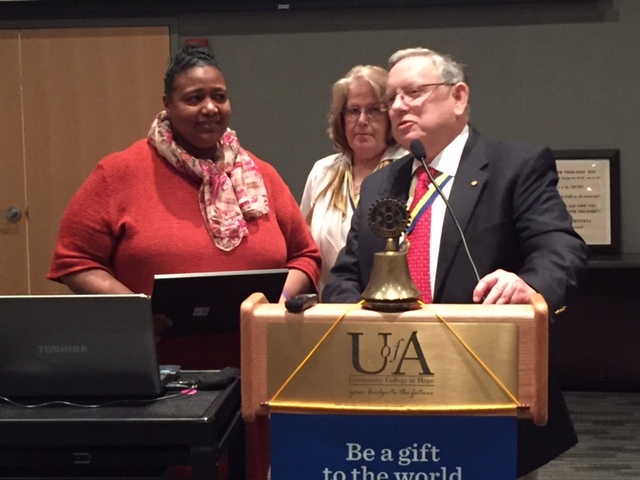 Rotary honors Educators of Year
Ken McLemore
Friday, February 17, 2017
HOPE – The Hope Rotary Club honored two long-time educators from the arts and athletics here Thursday night as its 2017 Educators of the Year.
Introduced by Rotary Club Selection Committee Chair John Watkins were Beryl Henry Elementary School choral music teacher Sandra Jones and Susan Powers, Hope High School girls physical education/cheer teacher and HPSD co-activities director.
Jones is a graduate of the University of Arkansas at Pine Bluff with a BS in music education, and an MSE in music education from Arkansas State University. She has taught in the Hope Public Schools for 12 years, and has been an educator for 26 years.
"She plans her instruction to focus on student's successes and they enjoy being in her class," Watkins read from her nomination. "A variety of music techniques are used to engage all students while keeping them focused and interested in the lesson. Each student is treated with respect and given opportunities to participate in live performances while benefiting from effective instruction.
"In addition to providing quality instruction in the classroom, Ms. Jones directs the 5th and 6th grade choirs at Beryl Henry Elementary School," he said. "She spends time preparing students to perform at parental involvement meetings, nursing homes, community events, and at the State Capitol in Little Rock."
Powers was named co-activities director this year, and she has taught in the Hope Public Schools for 35 years. She is a graduate of the University of Central Arkansas in Conway with both BSE and MSE degrees in physical education.
"Very few teachers have the patience and stamina to not only teach but enjoy teaching special needs students in Adaptive PE," Watkins read from Powers' nomination. "Coach Powers recruits regular students to create a positive atmosphere in this state required course. Our students are able to compete and feel a part of a team setting with the classroom skills Coach Powers provides.
"Coach Powers is our co-activities director and coordinates all activities on campus. She is always involved with her students academic and extracurricular activities," he said. "Her students are held responsible not only for her class, but in all classes in which they are enrolled. She always has high standards for her students."
Watkins presented both honorees with certificates and cash awards for use in their class activities, and he presented Hope Superintendent Bobby Hart with a cash award for the district.
Selection committee members included Watkins and Rotarians Clay Lance and Rodney Orr.
Watkins said the club believes it is necessary to honor teachers to encourage community support for public education.