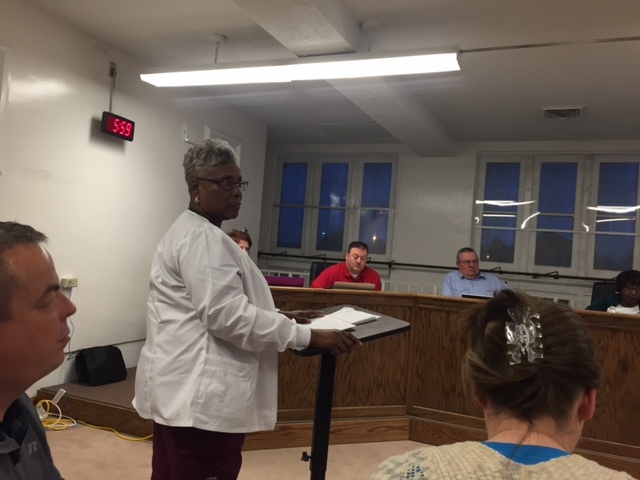 Board backs health clinic plan
Ken McLemore, Hope Public Schools
Wednesday, March 01, 2017
HOPE – A plan to develop a school based health clinic operating primarily on the Hope High School campus, but open to students and staff districtwide, was unveiled before the Hope Public Schools Board at its February meeting.
District Nurse Renee Sells, RN, made the presentation to the board based, in part, from student health survey results which show that among 421 HHS students responding, almost half have no family physician, have not seen a doctor in more than a year, and have not had regular vision screenings. Almost a third of the students do not have regular dental visits and almost a quarter do not have a family dentist.
The most significant reasons for the lack of care stemmed from difficulty in scheduling appointments because of the hours involved, a key detriment which a campus based clinic can resolve, according to Sells.
She said the plan calls for medical, mental, dental and vision health services at the clinic.
"You can't learn if you're sick," she said. "And, this can help cut down on absentees."
Funding for the clinic is being sought through a grant from Arkansas Tobacco Excise Tax Fund appropriations administered by the Arkansas Department of Education, Sells said. She said the start-up grant is being written for $150,000, and should cover site renovations, employment of site coordinator, clinical supplies, mental health supplies, outreach activity, travel and staff personal development.
Grant funding will diminish annually to a five-year terminus of $75,000, Sells said.
"We are officially on the list," she said. Grant application deadline is March 16.
She said because the grant funding provides only for one clinic per school district, the preferable site is the former home and family sciences "cottage" at HHS.
"There is plenty of room to have it all under one roof," Sells said.
Services are also provided for teaching staff, and the proposed clinic will operate through the annual summer school schedule. Sells said the grant was written specifically for the HHS campus because of the availability of facilities and that was the center of the greatest need.
Students from other campuses are allowed to be transported to the clinic under the grant funding.
"If we want to keep it open, say on Tuesday and Thursday until 5:30, other students can come use it," HHS Assistant Mike Radebaugh explained.
Services will be provided regardless of insurance status, according to Superintendent Bobby Hart. Sells said most students without medical or other health insurance typically qualify for the ARKids First program through Medicaid.
Radebaugh said local health providers who participate will do their own billing, and Hart said the school district will make up the difference in cases where students are completely uninsured.
"This is what is going to be the future," Sells said.
The board also heard a number of academic reports Monday night, with District Curriculum Coordinator Portia Jones noting that second quarter data shows, in most instances, continuing mixed results in student advancement.
"Students may not move at the first nine weeks, but may slowly increase," Jones said. "We definitely want to have more numbers moving."
Reports based upon "teacher-generated" grades showed Clinton Primary School students in grades three and four dipping. Beryl Henry Elementary fifth graders dipped in English and math, but held steady in science and social studies.
Hope Academy of Public Service students showed no movement across math grades, some decline in English grades, and mixed results in science and social studies for grades five through eight. Yerger Middle School data was unavailable.
Hope High School data showed decreases in English across grades 9-11, mostly increases in math, but increases in science and social studies for ninth graders, while 10-11 grades dropped.
"We want to see why?" Jones said. "Is it because students are missing days or is it the testing material?"
Absentees showed significant declines at Clinton Primary, HAPS and HHS, she said. Teacher attendance rates varied across the five campuses because of illnesses, pregnancies and other reasons, Jones said.
"We definitely have some work to do," she said. "There are some gains that we have made."
School Improvement Specialist Carla Narlesky said the BHE and HHS campuses have shown some progress in offsetting teacher absences, improving student attendance, and developing better uniform reporting. Narlesky said the BHE campus had also shown improvement on interim standard testing, except in math, where the tested material was not taught prior to the test.
In other matters before the board Monday, trustees:
--Unanimously extended Hart's contract for one year.
--Recognized HAPS seventh grade student Mika Brown for her third straight county spelling bee championship; and, recognized the HOPE Learning Center at HHS for its recent designation as one of the five top ALE programs in the state.
--Renewed legal liability insurance services with BancorpSouth Insurance at an annual premium of $7,700.
--Adopted annual facilities master plan for submission to the state.
--Amended district policy to redefine ROTC instructors as eligible for stipend pay.
--Approved renewal of a lawn maintenance agreement with Stroud Construction and Lawn Care for $41,370.
--Accepted a contract with Generation Ready, of New York, for educational consulting and training at BHE for $45,000.
--Denied facilities use requests by Canes' AAU Basketball for use of all gymnasiums at HHS through May; and for Texarkana Silverbacks semi-professional football use of Hammons Stadium.
--Approved facilities use requests by Eva Dennis Memorial for a pageant at HHS; by Brotherhood of Fulton for a benefit basketball game at HHS; by HHS Air Force JROTC for use of BHE cafeteria for awards banquet and for military ball; and by Southwest District Association Congress of Christian Education for use of YMS cafeteria for education conference.