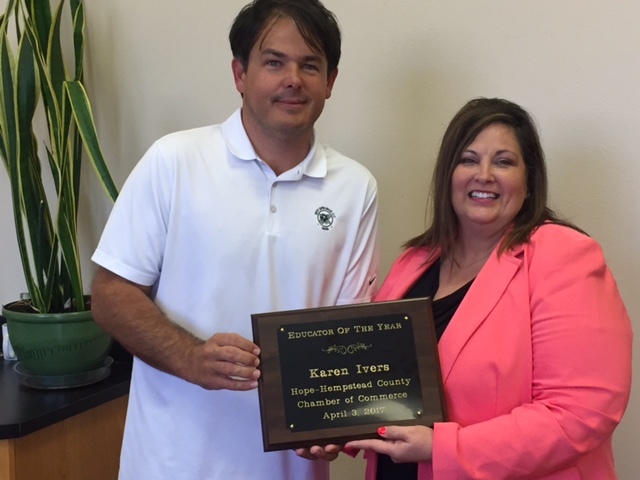 Ivers is Educator of Year
Ken McLemore, Hope Public Schools
Wednesday, April 05, 2017
HOPE – One of the highest honors awarded by the Hope/Hempstead County Chamber of Commerce has been given to a veteran Hope educator.
Karen Ivers, dyslexia coordinator for the Hope Public Schools, is the 2017 Chamber Educator of the Year.
Ivers, who is based at Clinton Primary School, works with students throughout the Hope district, according to the nomination letter submitted in her behalf.
"She has this amazing ability to look at the child's writing and errors while reading and know what to do next," the nomination states. "She is able to know what may be standing in the way of their learning."
A graduate of Lewisville High School in Lafayette County, Ivers holds a bachelor's degree in early childhood education from Ouachita Baptist University in Arkadelphia. She is Reading Recovery certified through the University of Arkansas at Little Rock, and holds a master's degree in reading from UALR, as well as a Dyslexia Therapy certification.
Ivers is in her second year as a Dyslexia Therapist and Certified Academic Learning Therapist through the Scottish Rite Hospital in Dallas, Texas; and, she taught kindergarten and first grade in the Hope Public Schools for 17 years prior to taking her current position three years ago.
"I am very honored to have been given such recognition," Ivers said.
She has established the dyslexia program in the Hope Public Schools as a model for the state of Arkansas, and has used the Reading Recovery program as a key element in her approach.
"When I first started teaching, I realized that reading was a science; it's not just something that you pick up," Ivers said. "The strategies we were using were not always right because the brain learns differently."
She said the key to success in teaching reading to dyslexic students is building recognition pathways within the brain that make connections for students.
Hope Superintendent Bobby Hart expressed the school district's pride in Ivers.
"While I understand there was a mixup concerning notification of Mrs. Ivers, the entire district celebrates her accomplishment and we are thrilled to have her in our district," Hart said.
Ivers methods and work ethic are widely regarded, according to the Chamber nomination letter.
"She works tirelessly," the nomination states. "She is often working late or on weekends. She comes to meetings prepared and able to discuss the child in question with expertise and compassion."
The nomination letter speaks from personal experience with Ivers' expertise and approach.
"As a parent, I have experienced Karen's expertise when it comes to my own child," the letter states. "Karen has spent a lot of time with me trying to figure out ways to work with her to help her understand… Karen is an advocate for all kids, and that was made especially evident when I asked her to help with my own."
A mother of four grown children, Ivers' work has had an influence upon her family. Her oldest daughter, Kristin, is a teacher in Little Rock; daughter Kasi is a veterinary technician; son Zachary is studying at UALR; and, son James works with a special needs community in Crossett.
Ivers is married to Jimmy Ivers, and is a member of Delta Kappa Gamma professional teacher's society and the Golden Key organization at UALR.