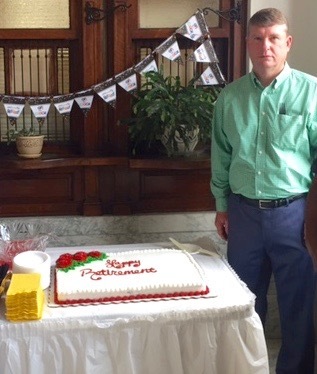 Bradshaw ends 37-year tenure
Ken McLemore, Hope Public Schools
Monday, June 26, 2017
HOPE – The tenure of Hope Public Schools Assistant Superintendent for Transportation and Facilities Steve Bradshaw has been a diverse journey.
If it walked and talked, was taught, met with parents, directed teachers, was grant funded, or constructed and maintained, Bradshaw was likely involved. He has had some connection with almost every aspect of the Hope Public Schools in the 37 years he has been employed by the district.
"You learn on the job," Bradshaw reflected. "When I started, I was commuting from Gurdon every day."
After graduation from Ouachita Baptist University in Arkadelphia with a Bachelor of Science in Elementary Education in 1980, Bradshaw began teaching in the fifth grade at Beryl Henry Elementary School.
He jokes that the metal buildings at BHE which were recently demolished were there when he began.
"I'm one of the old-timers, and that predates me," Bradshaw noted.
BHE was a grades 1-6 campus at the time with upward of 500 students on campus. Hope was in a growth mode at the time, he notes. In 1986, Bradshaw received his Master of Science in Elementary Education Administration and was promoted to principal at Edith Brown Elementary School.
Still commuting from Gurdon, he found it necessary to move to Hope, and in 1988, he followed June Downs as principal at Garland Elementary School. Downs was, Bradshaw admits, a tough act to follow.
"She was very highly thought of," he said. "But, there were some fine teachers with lots of years of experience; they showed me everything I needed to know."
With the pending construction of Clinton Primary School in 1991, Bradshaw returned to BHE as principal of a K-5 campus for one year before the school was shifted to a grades 5-6 campus, which has remained the case since.
"We had around 500 fifth and sixth graders," he said. "I was there until Mr. Harrell Dickerson retired."
Dickerson was the long-time director of transportation for the district. Bradshaw was asked to take on the job in 1997, and two years later was given the additional assignment as curriculum coordinator for the district.
"I had various jobs back then," he said. "As far as curriculum, it wasn't as detailed or technical as it is today."
During the period from 1999 until 2011, Bradshaw wore multiple hats, managing curriculum, personnel and grant writing functions for the district.
In 2011, his duties were concentrated into directing the facilities and transportation functions of the district. He arrived in the middle of a flurry of activity, including the construction of a three-bay bus shop with center bay floor lift; consolidation of the fleet and fuel storage; conversion of the bus fleet to diesel power; and, acquisition of electronic engine diagnostics.
"A lot of school districts didn't have the luxury of a lift for picking up a bus and working on it," Bradshaw said. "When I got here, we still had a lot of standard shift, gas engine buses. The whole fleet is automatic transmission and diesel, now."
Many of the changes saved money directly, such as the electronic diagnostics.
"It kept us from being parts replacers," Bradshaw said. "It used to be that a mechanic would listen to an engine and diagnose what needed to be replaced; but, if he got it wrong, we were just replacing parts unnecessarily. This goes straight to the problem."
State regulation of transportation operations and driver training also followed, he said.
"They inspect every bus you've got," Bradshaw said. "Fortunately, we have two good high-tech mechanics. I give them all the credit; we've never had a major write-up."
School bus driver training also became more complex. Every driver must complete three hours of annual safety training directed by ADE Division of Facilities and Transportation inspectors. Bradshaw has been a strong supporter of continued driver training, which now requires all new school bus drivers to complete a 24-hour state course before obtaining a commercial driver's license.
"I'm so thankful," he said. "We have never had a major accident with an injury or fatality; that is your greatest fear."
But, replacing drivers at all, much less those with solid experience, is a growing problem nationwide, Bradshaw said.
"That's probably one of the biggest challenges," he said.
Technology in other areas has also brought changes; some helpful, others… not so much.
"Communication is so much more direct, now," Bradshaw explained. "And, social media has changed things."
He said parents often communicate concerns, and complaints, via social media; which does not always go directly to the district administrator who needs to be informed.
"But, that is the next generation of the way people communicate with the school district," Bradshaw said.
In terms of the facilities within the HPS, Bradshaw acknowledged the enormous growth of district infrastructure during his tenure in the district. The construction of Clinton Primary School, redevelopment of the Hope High School campus and recent expansion of the Beryl Henry Elementary campus have kept the maintenance department growing.
"No-one, in any school district, can handle that without good people in place," Bradshaw said. "And, we have a lot of good people; they know their job."