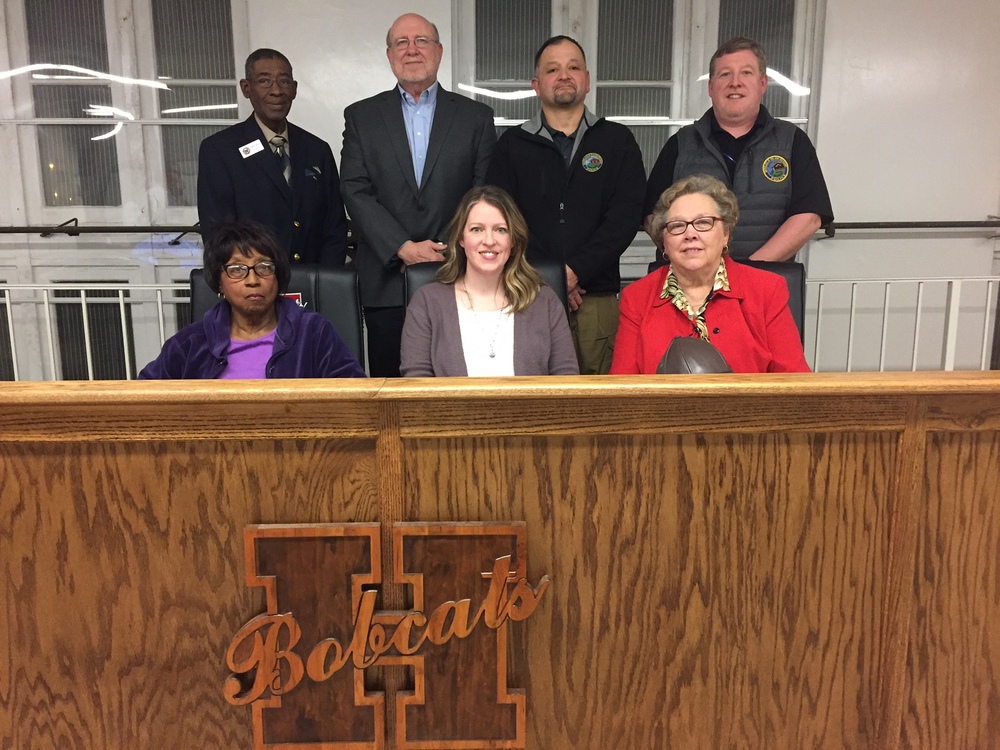 Board views transportation needs
Ken McLemore, Hope Public Schools
Wednesday, January 24, 2018
HOPE – The Hope Public Schools Board learned Monday night that the average age of the school district's bus fleet units is more than 13 years old. That point came in the summary of a study of the district's transportation needs which the board reviewed.
While no action was taken Monday night on the study by School Bus Consultants, of Lee's Summit, Mo., the board now has a tool, and the recommendations stemming from it, to decide upon a direction for the district's transportation needs.
Hope Superintendent Bobby Hart said the study will provide a foundation for better practices, greater route efficiency, better safety, and fleet size management.
"We need to make some decisions because its going to begin to affect us in the long term," Hart said.
He said the impetus of the need for an overall look at transportation for the district stems from student safety as the key priority.
Three general recommendations were developed from the study, based upon its "executive summary" as reviewed by the board Monday night, including:
--Bolstering existing policy with data that comprehensively addresses all necessary areas of student transportation services.
--Distilling policy and practice into a comprehensive "School Bus Handbook."
--Developing formats for the handbook that can be disseminated to the public conveniently.
The study recommends a rotation of the bus fleet through a three year program that replaces eight units per year, based upon a seven year lease/purchase plan for each new acquisition. The result of that program is a fleet of 24 buses, none of which are more than 12 years old at the end of the lease/purchase program. The district currently operates a fleet of 43 buses, 28 of which are 12-plus years old; while 19 units are 15-plus years old; and, five units are more than 20 years old.
Zone 2 Representative David "Bubba" Powers asked whether a series of breakdowns requiring new bus engines should be considered an "anomaly" in considering costs of maintenance and operations, and both Hart and District Transportation and Facilities Director Maurice Henry agreed that was likely the case.
Hart said a districtwide committee, including administration, faculty, students, stakeholders and patrons, and a school board representative, is being formed. Zone 1 Representative Viney Johnson volunteered to represent the board on the committee.
Also, Monday, the board adopted a resolution supporting the district's facilities master plan recommendation for projects for the state "partnership" funding program. Hart said roof replacements at the Hope High School and Hope Academy of Public Service campuses will be submitted for state funding. He said a proposal to add physical education facilities at the Yerger Middle School campus were not part of the "partnership" package, but were submitted to the state for planning purposes.
In other matters Monday, the board:
--Approved a Request for Proposals submission to the state for permission to seek bids, if desired.
--Approved the installation of new bell system technology at Hope High School, Beryl Henry Elementary School, and HAPS campuses.
--Extended to the third year a contract with Stroud Construction and Lawn Care at a cost of $41,300.
--Approved a facilities rental request from the Brotherhood of Fulton.
--Set a Feb. 6 date for a special strategic planning meeting.
--Approved certified and classified resignations and hired Terri Callaway as a secondary teacher at the CATS campus, and named Jonathan Turner as Dean of Students at Yerger Middle School.