HOPE – Clinton Primary School went bookish in February, according to CPS Principal Ashlea Stewart, who took the Hope Public Schools Board of Education on a literary tour of campus activities for the month at the February board meeting.
Stewart said CPS students recently competed in the district Southwest Arkansas Educational Cooperative Book Fair which first grade student Carter Wilcox won with his dramatic representation of Homer's "The Odyssey". Dressed as Ulysses, the principal character of the epic poem, Carter gave an overview of the story of one of the great mythos legends of literature.
Stewart later introduced fourth grade student Doressa Banks, who presented a review of "The Hero Two Doors Down," about Black baseball great Jackie Robinson, which was the Book of the Month at CPS in February.
February 28 also marked the start of "Read Across America," which typically highlights the works of children's author Dr. Seuss. Through the week of Feb. 28-March 4, CPS students will observe a special day in connection with a particular Dr. Seuss classic, including Crazy Sock Day (Fox in Socks), Camo/Animal Day (If I Ran the Zoo), Wacky Hair Wednesday (Wacky Wednesday), All-Out Green Day (Green Eggs and Ham), and Crazy Hat Day (The Cat in the Hat).
CPS has also observed daily "Black History Moments" in recognition of Black History Month, presented each morning via the public address system by students from Alvis Conway's gifted and talented program classes, have prepared for the Hempstead County Spelling Bee, participated in the Battle of the Books and had community church pastors visit the campus, Stewart said.
CPS teacher Travell Green introduced the CPS Gentleman's Club program to the board with club members Kayveon Anderson and Graydon Randle.
In an era when more boys are being reared in single-parent families nationwide, Green said young men need better opportunities to learn essential life and social skills. He said the Gentleman's Club program gives its members an ability to stand together as positive role models.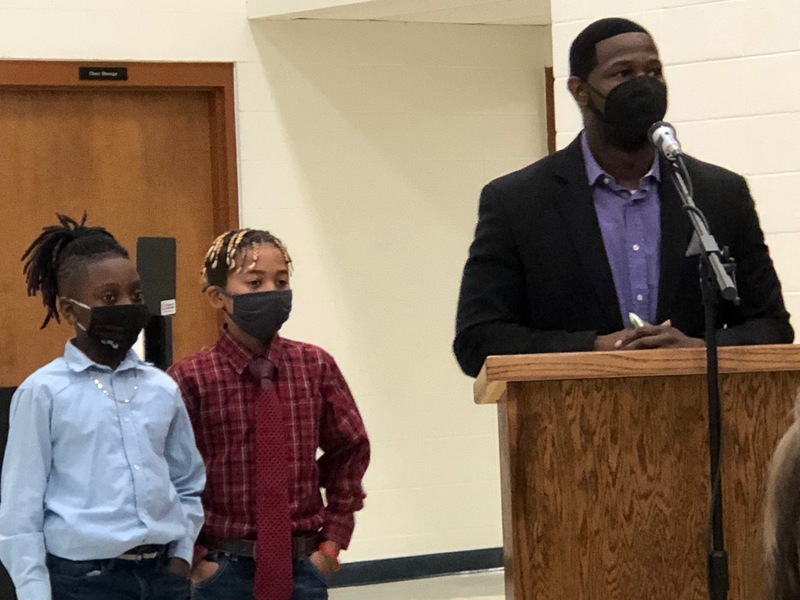 Clinton Primary School students Carter Wilcox, dressed as Ulysses, Doressa Banks, Kayveon Anderson and Graydon Randle, and CPS teacher Travell Green presented CPS activities for February at the recent Hope Public Schools Board of Education month meeting in the CPS cafetorium. – Ken McLemore/Hope Public Schools