HOPE – Hope High School football, track and academic standout Kearon Brown has signed a letter of intent to play football and run track under both athletics and academic scholarships offered to Brown.
The HHS Bobcat three-year letterman made it official May 6 in a signing ceremony in the HHS Library.
"We're going to miss him; he is a good one," Hope Athletics Director/Head Football Coach Phillip Turner quipped.
Brown capped his three years on the Bobcat gridiron squad in 2021 with 39 solo tackles as a defensive back, while snaring three interceptions on the season with one defensive touchdown.
"He had Lyons College and Northeastern State in Oklahoma recruiting him, but he decided to attend Hendrix where he can play football and run track," Turner said.
He was named 5A-South All-Conference Honorable Mention at defensive back.
Brown was a utility back in his junior season with the Bobcats running for six touchdowns in 2020 both from offense and defense, including an 80-yard kickoff return against Hot Springs and a "pick six" against Camden-Fairview.
Brown was named to the 5A-South All-Conference track squad in 2019 and was a state qualifier in 2020, placing in both the 60-meter dash and 60-meter hurdles.
A two-year honor roll student at HHS, Brown is also a member of the Hope chapter, National Honor Society.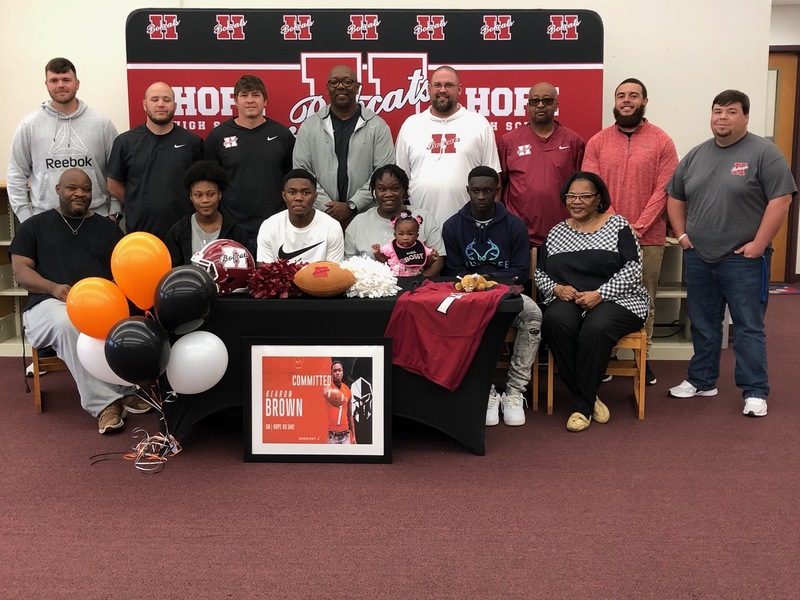 Hope High School Bobcat Kearon Brown, center left, is joined by the HHS football coaching staff and his family during signing ceremonies May 6 at HHS in which Brown committed to play football and run track at Hendrix College in Conway under athletics and academics scholarships. – Ken McLemore/Hope Public Schools