HOPE – A student-led commencement for the Hope High School Class of 2022 was marked with a call from the Biblical prophet Isaiah as graduating seniors were honored in commencement ceremonies May 13 at Hammons Stadium.
Hope Public Schools Superintendent Dr. Jonathan Crossley took the context of Isaiah, Chapter 6, as the basis for his charges to the graduating seniors to reflect the Bible prophet's attitude of service.
"He said, 'Here I am, Lord, send me,'" Crossley noted.
With that theme in mind, he asked the graduating students to be prepared for the "next step" in their lives, but to always be available for the service life entails.
"And, remember, we love you and we are proud of you," Crossley said.
The Honor Graduate Speech was given by Shakira Arnett, who noted that, despite the COVID-19 pandemic, the Class of 2022 achieved its goal of graduation. Arnett said it was her firm belief the Class of 2022 would, indeed, change the world because of the leadership and creativity embodied in it. With a nod to HHS faculty and an expression of thanks to her parents, Arnett concluded with a wish for the success of each of her classmates.
Graduate Richard Ware, winner of the Heidi Hoglund Memorial Scholarship and the Beryl Henry Award, gave the charge to the Class of 2022.
Referring to an irritating childhood nickname, "Mr. Know It All," given him by his mother, HHS EAST Facilitator Adrienne Ware, Richard used that moniker as the theme for his charge to the class by noting the fluidity of life that prevents anyone from "knowing it all."
Ware said his goals through life have changed numerous times: becoming an inventor, then a lawyer, perhaps a teacher, but that the changing horizons were "okay."
He said none of the Class of 2022 was expected to be "perfect" in navigating the changes that come next.
Ware referred to the example of his piano teacher, Allen Batts, to note that the respected pianist was always enthused about learning new music because it made him persistent in having faith in himself.
Referring to his service as governor at Arkansas Boys' State, Ware noted his goal to become the first Black to serve as Governor of Arkansas, a point which drew some applause, but he reminded his classmates that life remains fluid, that no-one "knows it all," but each of them should have the faith in themselves, the willingness to learn, and the confidence to succeed that will let them face the future.
The 19 graduates of the Hope Collegiate Academy at the University of Arkansas-Hope received Associate of Arts degrees from the UAH on May 10 in ceremonies at Hempstead Hall.
The HCA class included Carlie Beck, Sydnie Booker, Alecia Bradley, Cody Clayton, Ashlyn Courtney, Collin Easterling, Alana Flenory, Kai Hamilton, Katie Howard, Courtland Jackson, Bradley Kellar, Juan Leon, Hunter Mathis, Sailor McRaven, Jimmy Parades, Brooklyn Robinson, Keller Tomlin, Griffin Trauger, and Samantha Ventura
Honor graduates for the Class of 2022 were:
SUMMA CUM LAUDE – Shakira Arnett, Collin Easterling, Montavius Eason, Hunter Mathis.
MAGNA CUM LAUDE – Juan Leon, Sydnie Booker, Richard Ware, Courtland Jackson, Khyianna Smith, Brandon Gallegos, Krystal Vasquez, Melanie Lara, Jocelyn Castro, Margauxsoul Masie Maclaughlin, Enrique Solis, Samantha Ventura.
CUM LAUDE – Rocio Martinez, Ashlyn Courtney, Skylar Wilburn, Da'sheunna Purifoy, Aniya Trotter, Jamesha Armstrong, Katherine Bartlett, Brenda Ventura, Keyonati Haynes.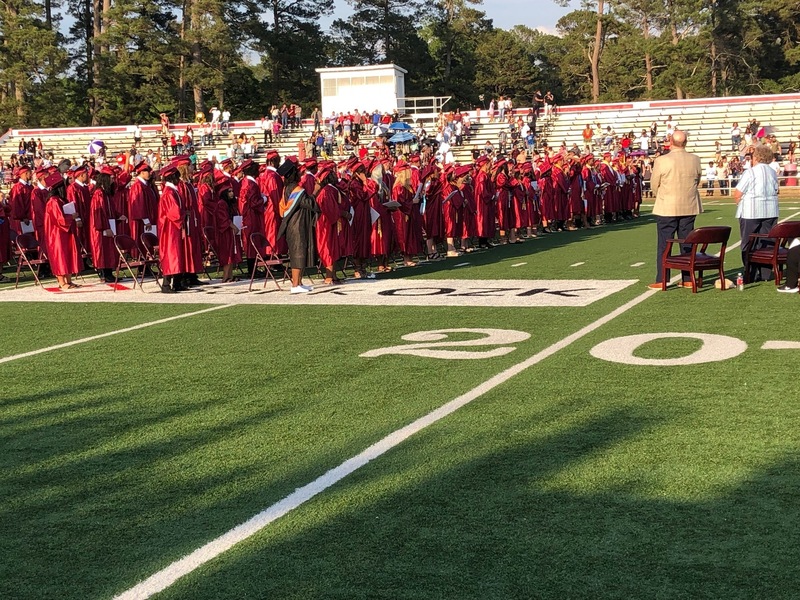 The Hope High School Class of 2022 says farewell to HHS with the final strains of the Hope Alma Mater rising over Hammons Stadium here May 13.. – Ken McLemore/Hope Public Schools