Starting August 1, Hope Public Schools will share TWO Employee Highlight images each week - one Certified and one Classified! The Employee Highlight Program is available to ANY Hope Schools Employee who wishes to fill out the form. All employees were sent an email with a link to the form and a sample of what the Employee Highlight image will look like (see below).
This program will celebrate our HPS employees! ANY HPS Employee may participate! ALL Employees received an email about the program on July 28. The questionnaire form link was provided in the email, so if you are an employee, check your email!
This program is completely VOLUNTARY, but we would love to hear from as many employees as we can get! The Employee Highlight posts will shared on HPS social media sites, so be looking for those starting August 1, 2022!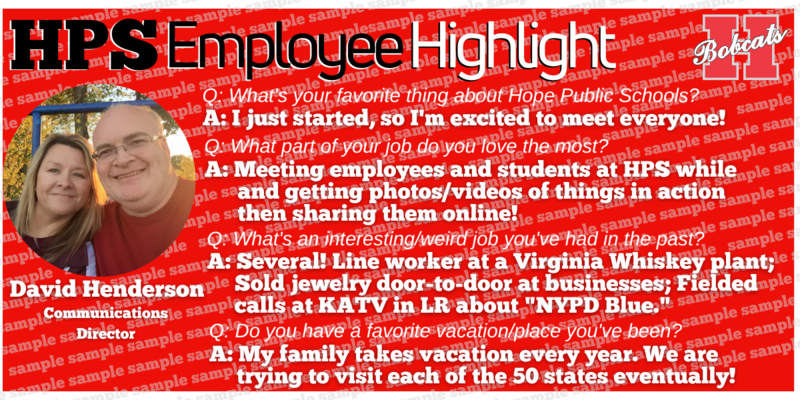 (note: actual image will not have "sample" watermark)
-----
A partir del 1 de agosto, las Escuelas Públicas de Hope compartirán DOS imágenes destacadas de empleados cada semana: ¡una certificada y otra clasificada! El Programa destacado para empleados está disponible para CUALQUIER empleado de Hope Schools que desee completar el formulario. A todos los empleados se les envió un correo electrónico con un enlace al formulario y una muestra de cómo se verá la imagen Destacada del empleado (ver más abajo).
¡Este programa celebrará a nuestros empleados de HPS! ¡CUALQUIER empleado de HPS puede participar! TODOS los empleados recibieron un correo electrónico sobre el programa el 28 de julio. El enlace del formulario del cuestionario se proporcionó en el correo electrónico, así que si usted es un empleado, ¡revise su correo electrónico!
Este programa es completamente VOLUNTARIO, ¡pero nos encantaría saber de tantos empleados como podamos! Las publicaciones destacadas de los empleados se compartirán en los sitios de redes sociales de HPS, ¡así que busque las que comiencen el 1 de agosto de 2022!