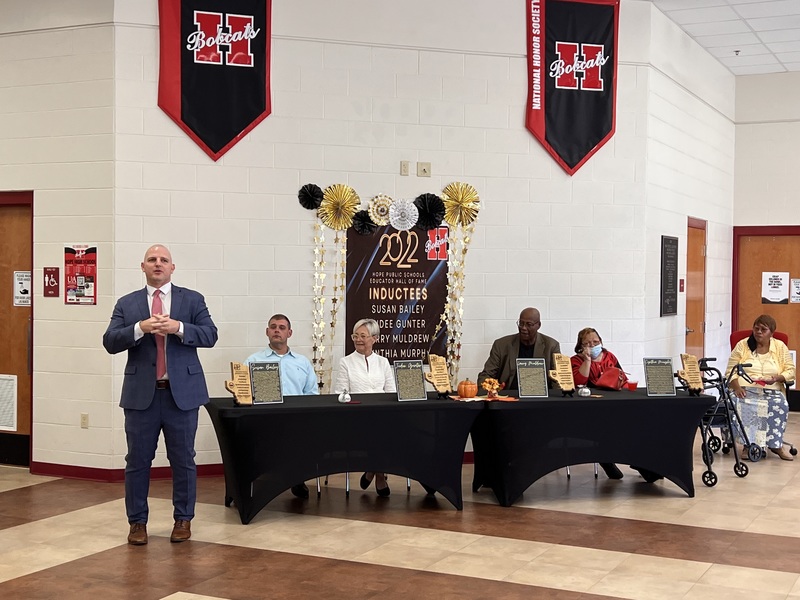 HOPE, ARK - On October 14, 2022, four former Hope Public Schools educators were inducted into the Hope Public Schools Educator Hall of Fame. The ceremony took place in two parts. The induction and reception was held in the MAC Building at Hammons Stadium, where more than 50 visitors gathered to honor and celebrate the lifetime achievements of those inducted.
School Board President Linda Haynes welcomed the crowd. "There are people here that have been a legacy in Hope education. We are proud of what this represents from the top down," she said referring to the inductees.
Superintendent Dr. Jonathan Crossley read biographies for each educator and presented each with a plaque to commemorate their achievements and induction into the Hall of Fame.
Susan Bailey was inducted posthumously, receiving an overwhelming number of nominations before and after her recent passing. Judee Gunter was recognized for her contributions both as a teacher and as a vital part of the district's School Improvement Planning in the past. Larry Muldrew not only had an extensive career as ad administrator for the district, but also won awards for his leadership. And, Cynthia Murphy's 48 years of service, dedication, and care for her students touched the lives and hearts of those around her.
After each presentation, the public was allowed to comment. Attendees shared stories of each educator's impact on their own lives, the lives of their children, and, in some cases, the lives of their grandchildren.
In the evening, a special presentation was made on the field of Hammons Stadium before the Hope-Lakeside football game. Each inductee was escorted onto the field as announcer Steve Lance read their biographies aloud.
Susan Bailey (Awarded Posthumously)
Susan Bailey was born in Hope, Arkansas. She graduated from Hope High School. In 1970, She received her Bachelor's Degree in Spanish from Southern Arkansas University. She began her teaching career in Missouri before moving to Hope to work as a substitute teacher in 1974. Two years later, she was hired as a Reading Teacher. Shortly after she was hired, she began her career as a Spanish and Speech Teacher. She was a Student council sponsor for many years, taking students to conferences and conventions all over the country. She was honored by the Southern Association of Student Councils for her leadership. She led sessions at the southern student council conference in Myrtle Beach. She also took students to forensic speech competitions all over Arkansas. She and her students helped raise large amounts of money for individuals and groups in Hope and Hempstead County. She continued teaching at Hope Public Schools until her retirement in 2002. She was elected Hope/Hempstead County Educator of the Year for 1984. Mrs. Bailey taught for 28 years in public education. Accepting the plaque for Susan Bailey was her son Phillip Bailey, Misty Green, Zerick Bailey, and SKYLAR Bailey who celebrated her 7th Birthday that day!
Judee Gunter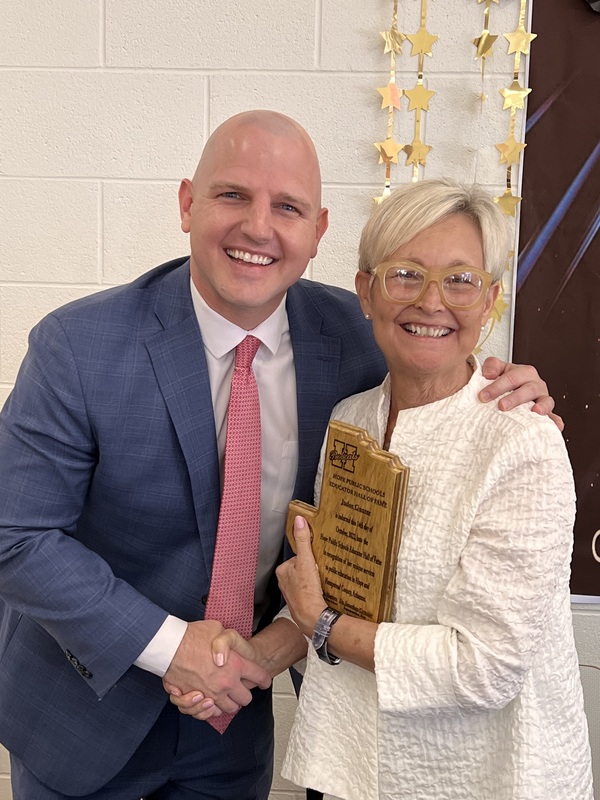 Judee Gunter was born in Morrilton, Arkansas. She graduated from Morrilton High School. She then attended Ouachita Baptist University where she earned her BSE. She also earned her Masters degree from Ouachita Baptist. She began her teaching career in Cabot. After a year there, she moved to Hope. She taught 7th Grade Math at Yerger Middle School before moving to the High School. While at Hope High, she taught math classes in every subject except for Geometry. After teaching for about ten years in Hope, she left to teach at Ouachita Baptist. While there, she led courses which included teaching COBOL to high school students. She then returned to the Hope School District. She retired for the first time in 2009. She returned in 2017 to serve as an instructional facilitator, helping to develop curriculum across all subject areas. She retired again in 2021. She was voted Hope/Hempstead County Educator of the Year for 1983. Mrs. Gunter spent a total of 37 years teaching for Hope Public Schools. Accepting the plaque were Judee and Jim Gunter.
Larry Muldrew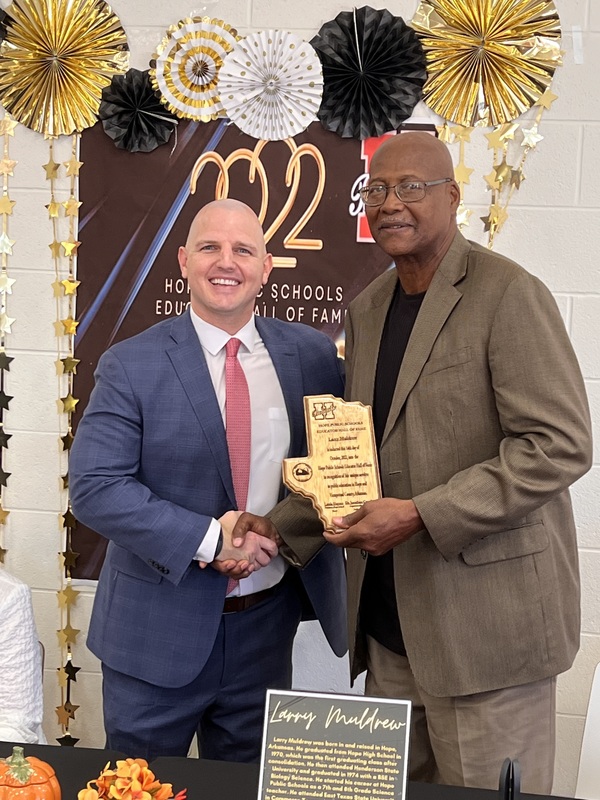 Larry Muldrew was born in and raised in Hope, Arkansas. He graduated from Hope High School in 1970, which was the first graduating class after consolidation. He then attended Henderson State University and graduated in 1974 with a BSE in Biology Science. He started his career at Hope Public Schools as a 7th and 8th Grade Science teacher. He attended East Texas State University in Commerce Texas where he earned his Masters Degree in Education Administration. He then began his administrative career in 1977. He was the Principal for the Rutherford school here in Hope, then in 1978 moved to the Assistant Principal position at Yerger. He became principal for Yerger in 1993 and remained there for 21 years until he retired in 2012. During his tenure as Assistant Principal, he was presented with the Middle School Level Success Maker Award. Mr. Muldrew spent 38 years in public education. Accepting the plaque was Larry Muldrew, Patricia Muldrew, and family.
Cynthia Murphy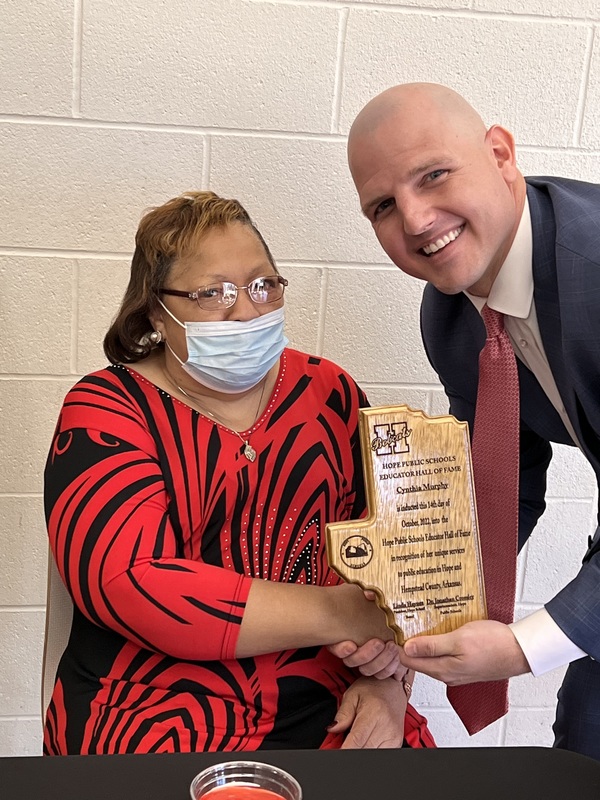 Cynthia Murphy was born in Nashville, Arkansas, and raised in Ozan. She graduated from Lincoln High in Washington, Arkansas, in 1968. She then attended AM&N College in Pine Bluff where she earned her BSE in Elementary Education in 1972. The following Fall, she began working for the Hope School District. In 1982, while working for Hope Schools, she earned her Masters Degree in Reading from Henderson State University. She taught 47 years in 3rd grade and one year in 4th grade. She was nominated for "Who's Who Among America's Teachers" at least five times. Her philosophy is that "every child can learn if given the opportunity." She retired in 2020. She was named Hope/Hempstead County Educator of the Year for 2005. Mrs. Murphy taught 48 years in public education. Accepting the plaque was Cynthia Murphy and family.
Susan Bailey's son, Phillip (2nd from right), and family pose with School Board President Linda Haynes (left) and Superintendent Dr. Jonathan Crossley (right):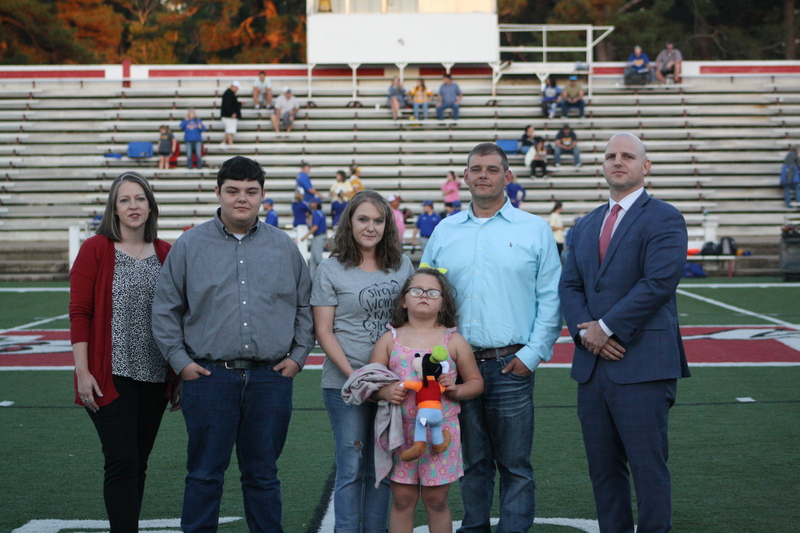 Judee Gunter (2nd from right) and Hon. Jim Gunter pose with School Board President Linda Haynes (left) and Superintendent Dr. Jonathan Crossley (right):

Larry Muldrew (3rd from left) and family pose with School Board President Linda Haynes (left) and Superintendent Dr. Jonathan Crossley (right):

Cynthia Murphy (2nd from right) and family pose with School Board President Linda Haynes (left) and Superintendent Dr. Jonathan Crossley (right):