HEALTH NOTICE - The Bobcat Clinic will provide COVID-19 testing today, Tues. Jan. 18, ONLY. Please call 870-722-2733 x 2 for appointment. Medical services will NOT be available Wednesday-Friday, but will resume Mon., Jan. 24.
CPS and HAPS students may collect meals for Thursday, Jan. 13, and Friday, Jan. 14, in the bus line at Yerger Middle School from Noon-2 p.m. on Thursday. All students return to on-campus instruction Tuesday, Jan. 18 after the Dr. Martin Luther King Jr. federal holiday.

This is Dr. Jonathan Crossley, superintendent of schools. We have an important update regarding COVID-19. Based on consultation with the Arkansas Department of Health and the Department of Elementary and Secondary Education, we will continue the instructional pivot through this Friday for TWO of our campuses: Clinton Primary and the Hope Academy of Public Service. Because of rising positive numbers with staff, Clinton Primary and HAPS will return to face-to-face instruction on Tuesday, January 18, 2022. Yerger, Beryl Henry, Hope High School, Creative Action Team School, and the ABC Pre-K center will return to face-to-face instruction this Thursday, January 13, 2022. Important reminder: If you would like your child to receive the COVID-19 vaccination, please make an appointment with the Bobcat Clinic for tomorrow Wednesday, January 12, 2022. If you are experiencing symptoms or ARE quarantined, please remain home, This will allow us to combat rising numbers in our district. Please check Facebook, Twitter, and our website for ongoing updates. Thank you and stay safe!

Good afternoon! I hope you are doing well during this pivot to virtual instruction. This message serves as a brief reminder of guidelines for COVID-19 positive cases and persons who are symptomatic and being tested for COVID-19. Reminders for Those Identified as Close Contacts: - If your student(s) is being tested because they are symptomatic, do not send your student(s) back to school with a pending PCR test. Please keep them home until you are notified of results. - 10 days isolation for ALL positive cases - 10 days quarantine for unvaccinated students documented to not wear their mask correctly - 10 days quarantine for students with positive case within their home unless fully vaccinated and/or the positive person is isolated from them - In order to be considered fully vaccinated, you must receive the booster for COVID-19 if your timeline has expired from the original dose(s). Remember, it is 5 months for both Moderna and Pfizer. It is 2 months for Johnson and Johnson. - You can make your appointment with the Bobcat Clinic for this Wednesday, January 12, 2022. Also, boosters are available at most pharmacies. Please make your appointment ASAP if you are interested in being fully vaccinated. Book your appointment at the Bobcat Clinic: 870-722-2733, ext. 2 Thank you for being flexible during this time. As many of you are aware, many districts around us are now pivoting to virtual instruction. Our collective vigilance will help us combat the spread. I appreciate your patience and care for students during this time. Stay safe! Dr. Jonathan Crossley - Superintendent of Schools
The newest information regarding booster vaccination against COVID-19 released by the U.S. Food and Drug Administration breaks down the timeline for the follow-up administration for the three approved vaccines. – US Food and Drug Administration graphic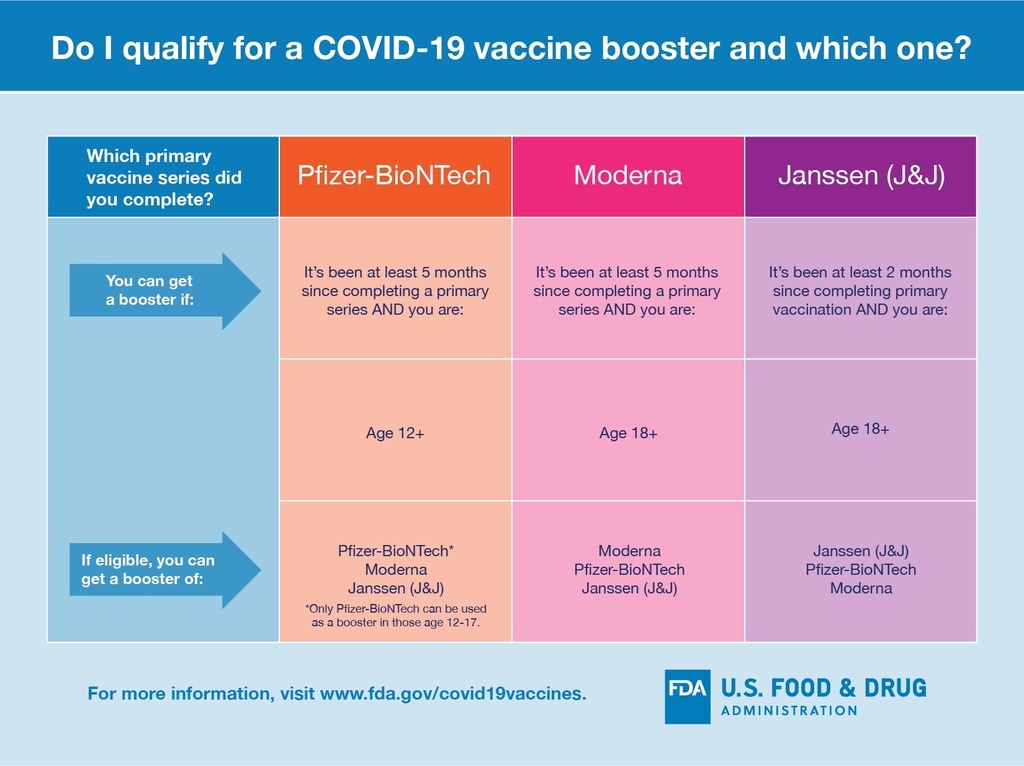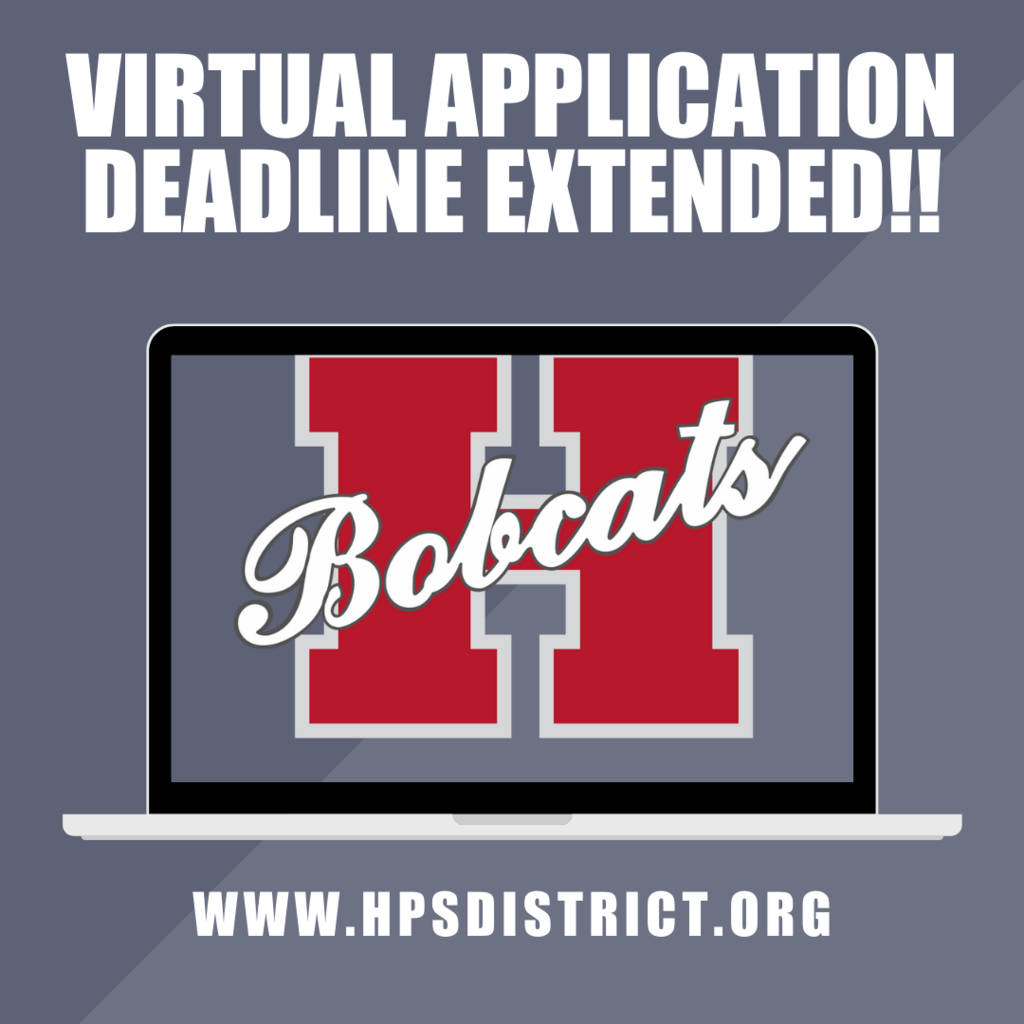 BOBCAT CLINIC TO OFFER PFIZER VACCINE -- See the attached flier for details about this free COVID-19 vaccine clinic for HPS students and staff.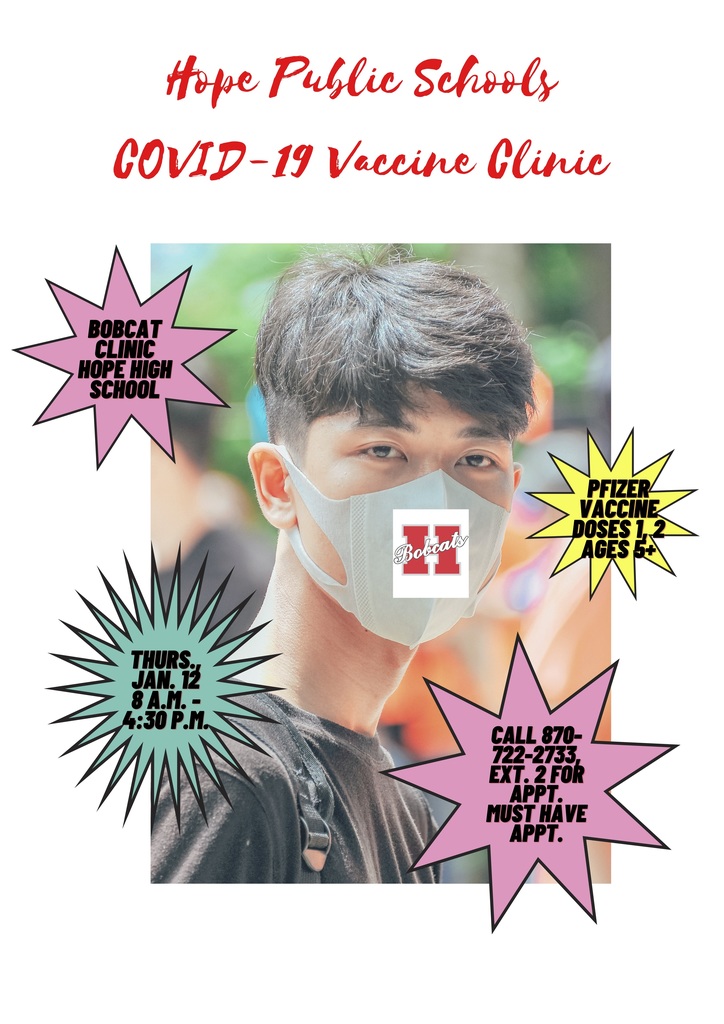 IMMEDIATE RELEASE - JANUARY 6, 2022 HPS WILL CONTINUE PIVOT THROUGH WEDNESDAY, JANUARY 12, 2022 STUDENTS WILL RETURN TO SCHOOL FOR FACE-TO-FACE INSTRUCTION BEGINNING THURSDAY, JANUARY 13, 2022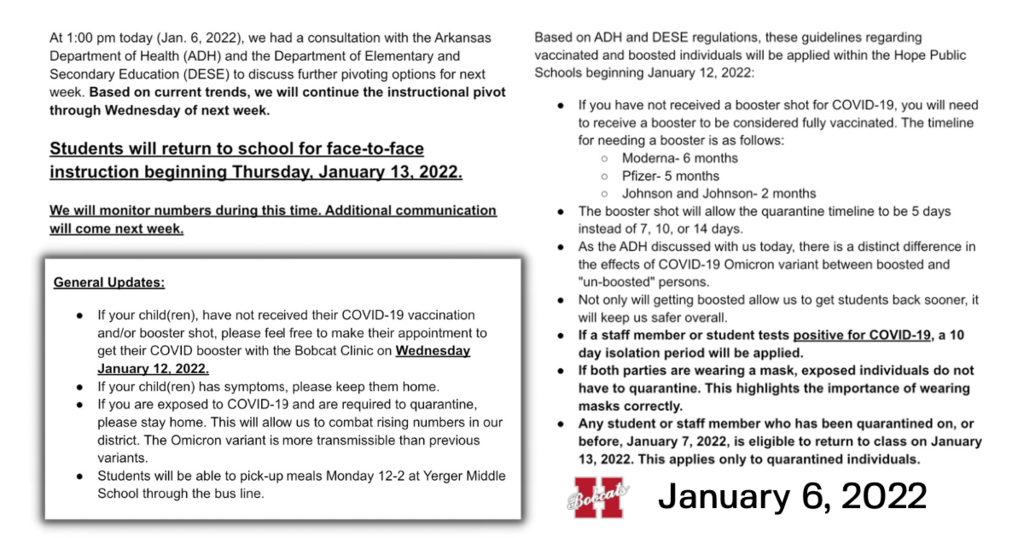 FOR IMMEDIATE RELEASE - JANUARY 05, 2022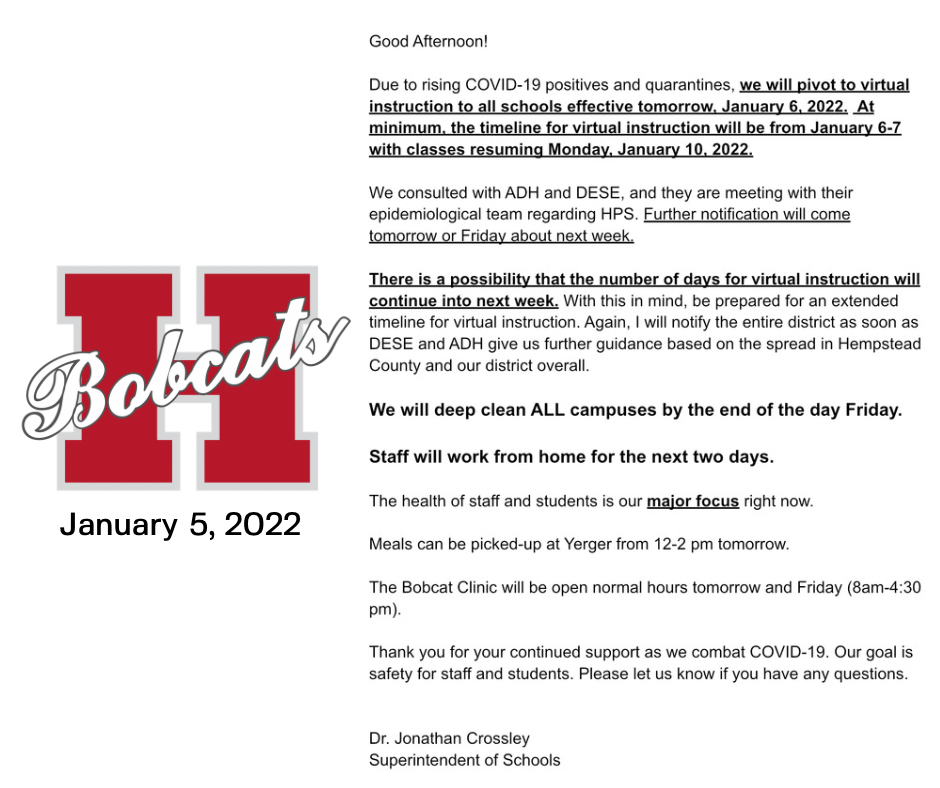 HPS goes virtual January 6-7

Important Message from Superintendent Dr. Jonathan Crossley.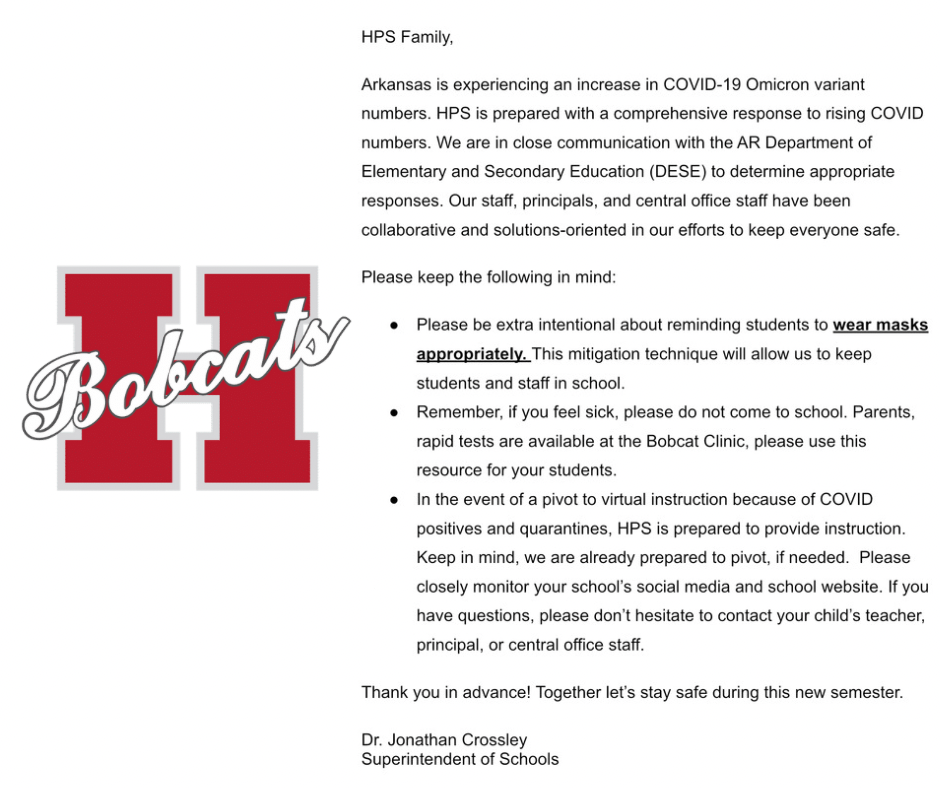 Our phones are down today. We are using FB messenger to communicate.
Congratulations to our Reading Fair winners! First Grade- Carter Wilcox, Brigit Arroyo, Yaniell Felipe. Second Grade- Ashley Morales, Bentley Elder, Landon Carr. Third Grade- Kaiden Smith, Kristiona Carr, Christopher Storas. Fourth Grade- E'Mahree Muldrow, Alyssa Brawner, Jazlyn Mejia. These students will participate in the Regional Reading Fair next month at the Co-Op.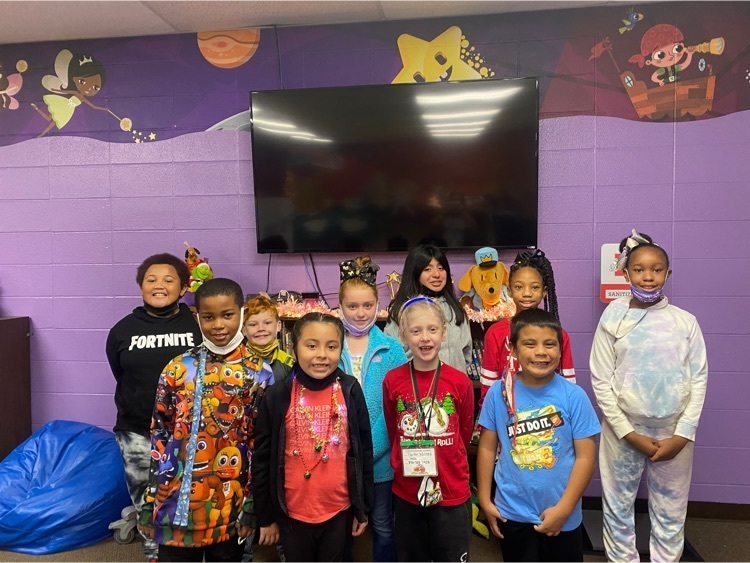 We found some ugly Christmas sweaters around campus today! Tomorrow is Grinch day!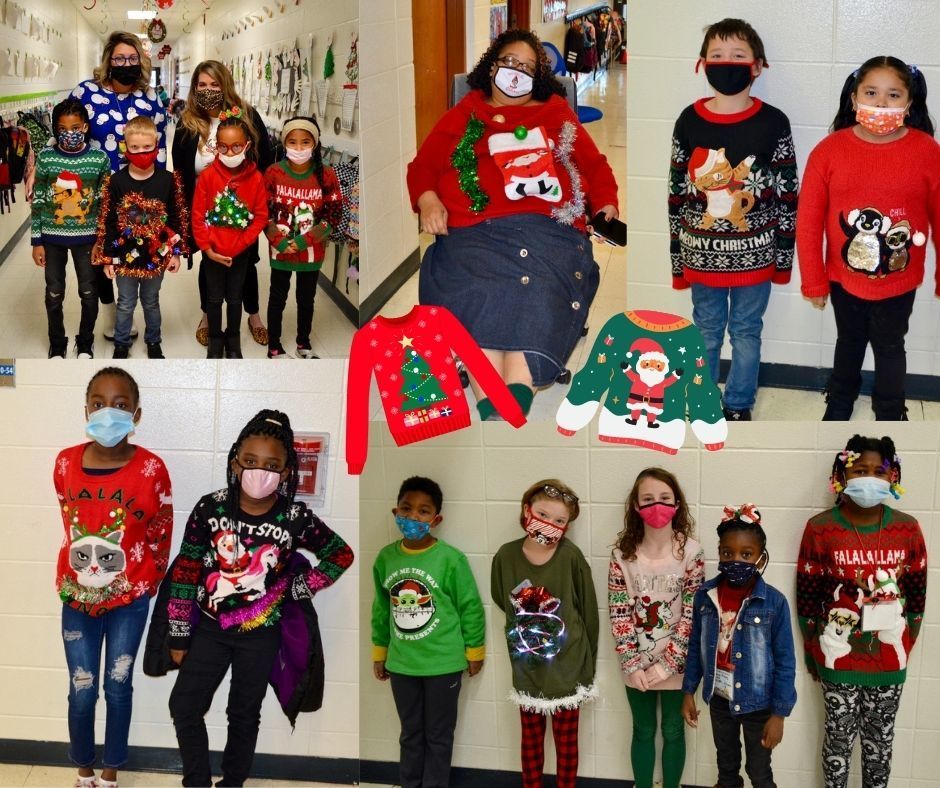 Christmas Spirit Week December 13-17

These 4th graders competed in our Spelling Bee this morning and did a fabulous job! The top 2 spellers will compete in the Hempstead County Spelling Bee in January. Congratulations! First place - Emily Santos Second place - Elizabeth Bramlett Third place - Calinda Wang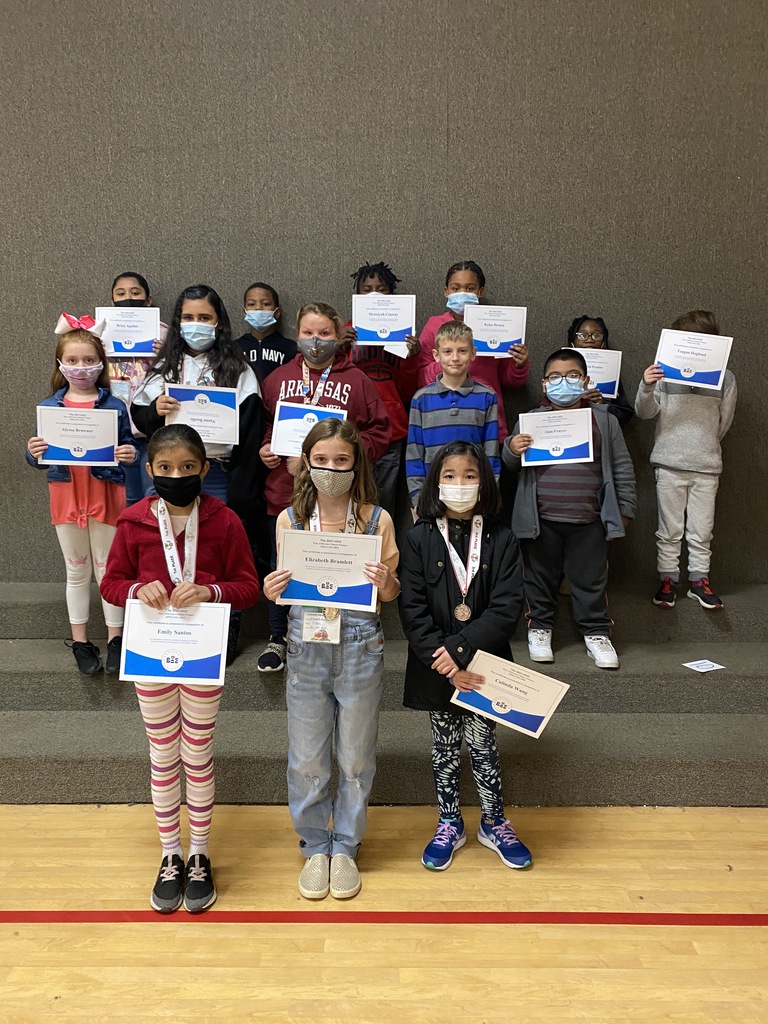 School will dismiss early December 15, 16, & 17.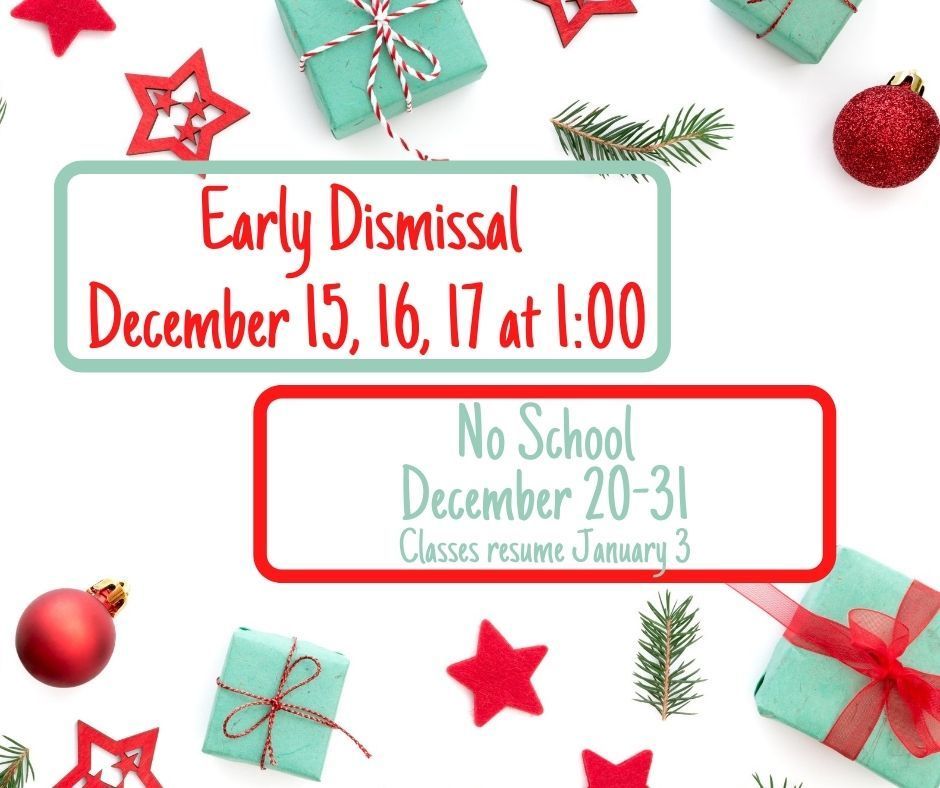 Major SHOUTOUT to Clinton Primary PreK-4 for 4,000+ canned food items donated to Hope In Action.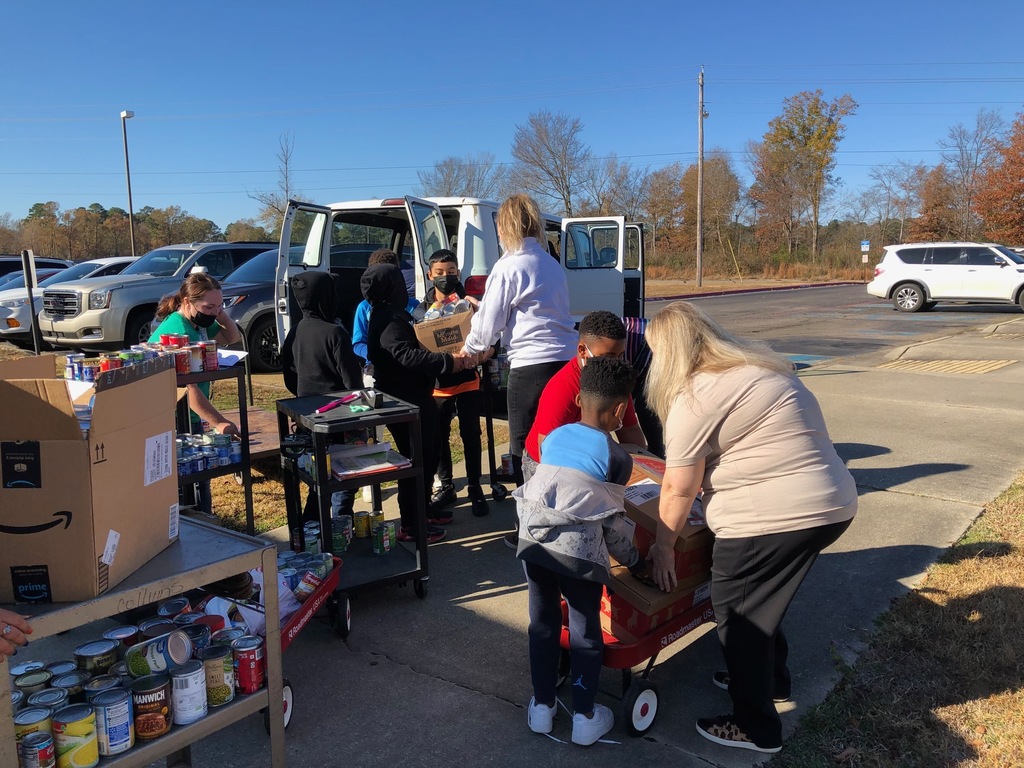 Yearbooks are on sale! Yearbooks will not be sold at the school. You must purchase them online.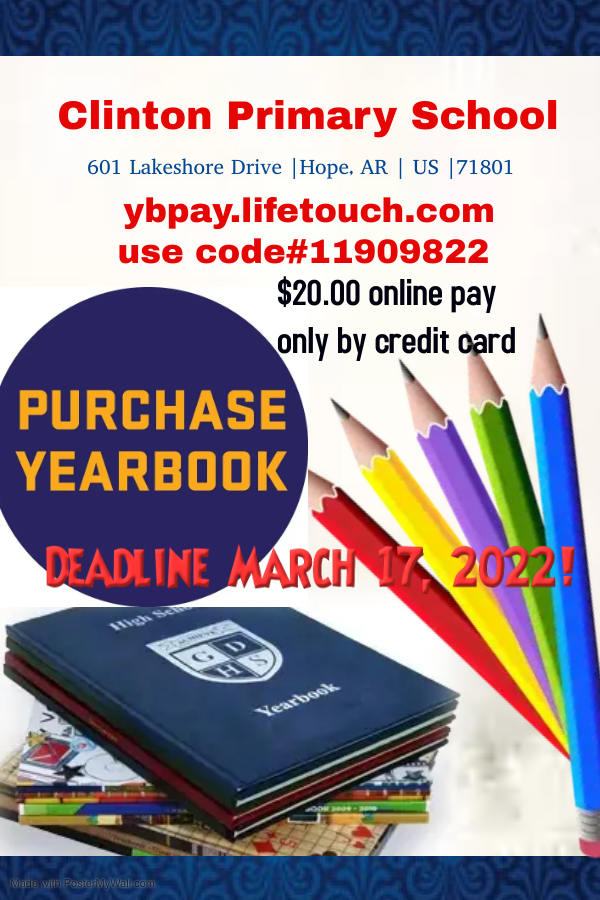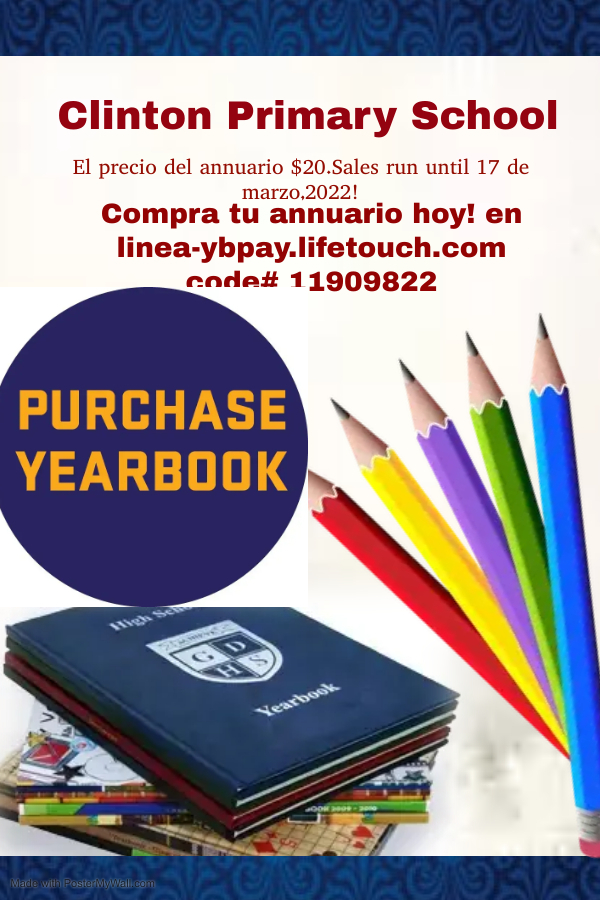 Don't miss the school board meeting tonight, 5:30 pm at the the Beryl Henry Elementary Cafeteria!