MASK GUIDANCE for April 25-29... Optional; risk is low.
MASK GUIDANCE for April 18-22... Optional; risk is low.
EASTER BREAK – Easter weekend holiday for the Hope Public Schools will be observed Friday, April 15, through Sunday, April 17. No classes will be conducted on Friday and administrative offices will be closed. All classes and normal business hours will resume on Monday, April 18.
MASK GUIDANCE for Week of April 11-15: CDC risk assessment is LOW. Mask usage is OPTIONAL.

FOR IMMEDIATE RELEASE: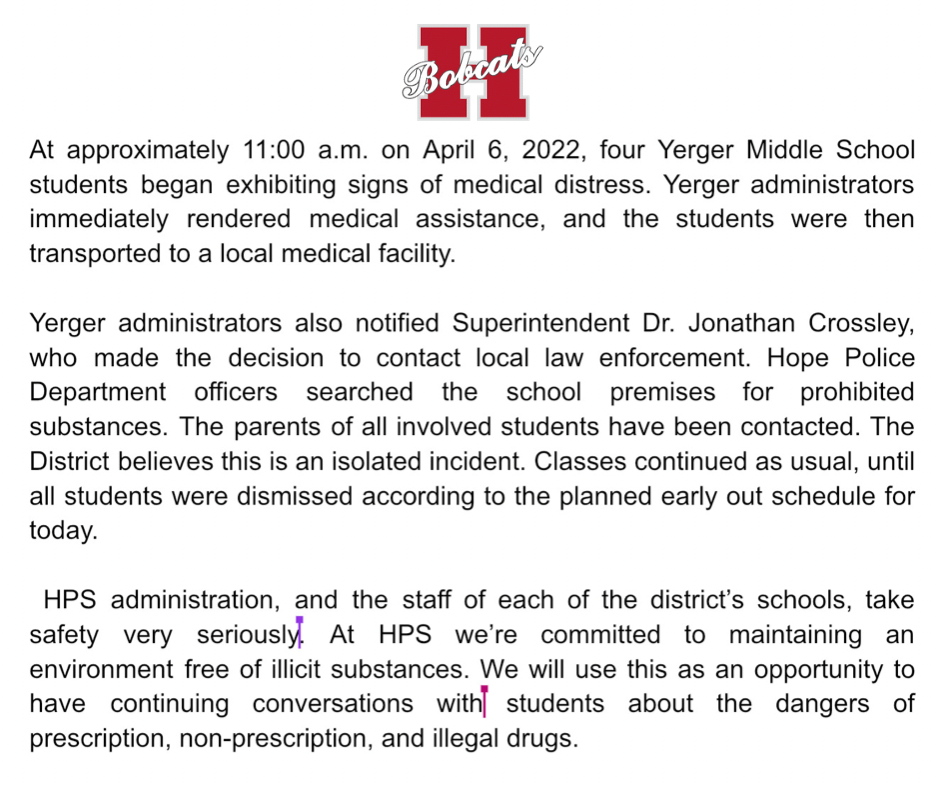 COVID-19 VACCINE CLINIC... Bobcat Clinic at Hope High School will host a COVID-19 vaccine clinic April 12 during regular hours for pediatric and adult patients. You must be registered. Call 870-722-2733x2 for appointment.
Last year 19 Hope Collegiate Academy students graduated with a high school diploma and Associate of Arts degree. Yes, 100% of our students! Start a college degree and save thousands. Enroll in the Hope Collegiate Academy. Apply at
https://www.uaht.edu/hope-collegiate-academy/
COLLEGIATE ACADEMY... University of Arkansas-Hope Dean of Secondary Education Mikki Curtis explains admissions to the Hope Collegiate Academy for grades 10-12 Hope High School students during an overview March 17. Students earn a high school diploma and an Associate of Arts degree from UAH at no cost to parents.
SPRING BREAK... Spring Break is set for March 21-25. All campuses and district offices will be closed and classes will not be conducted until Monday, March 28. All campuses in the HPS will conduct Parent-Teacher conferences on Thursday, March 17 but will be closed March 18.
PUBLIC NOTICE... HPS grant application...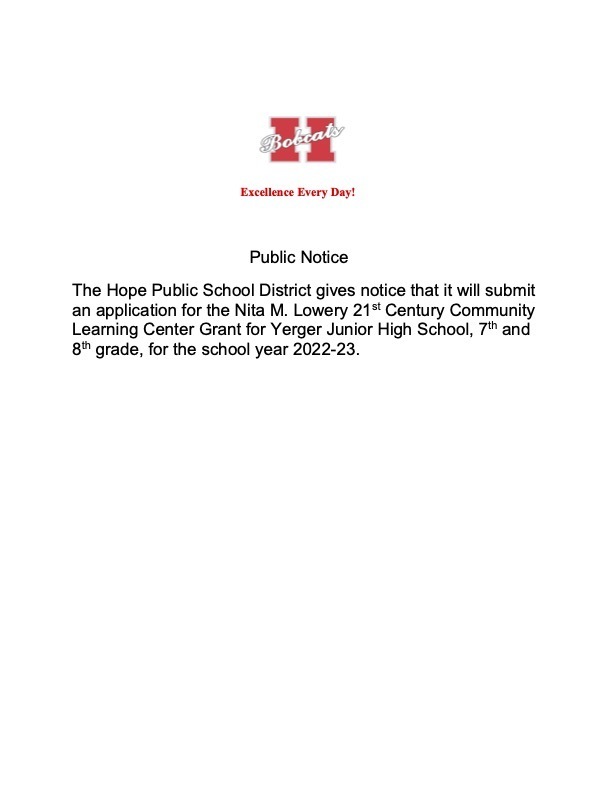 DAYLIGHT SAVINGS TIME... Get ready to Spring Forward this weekend...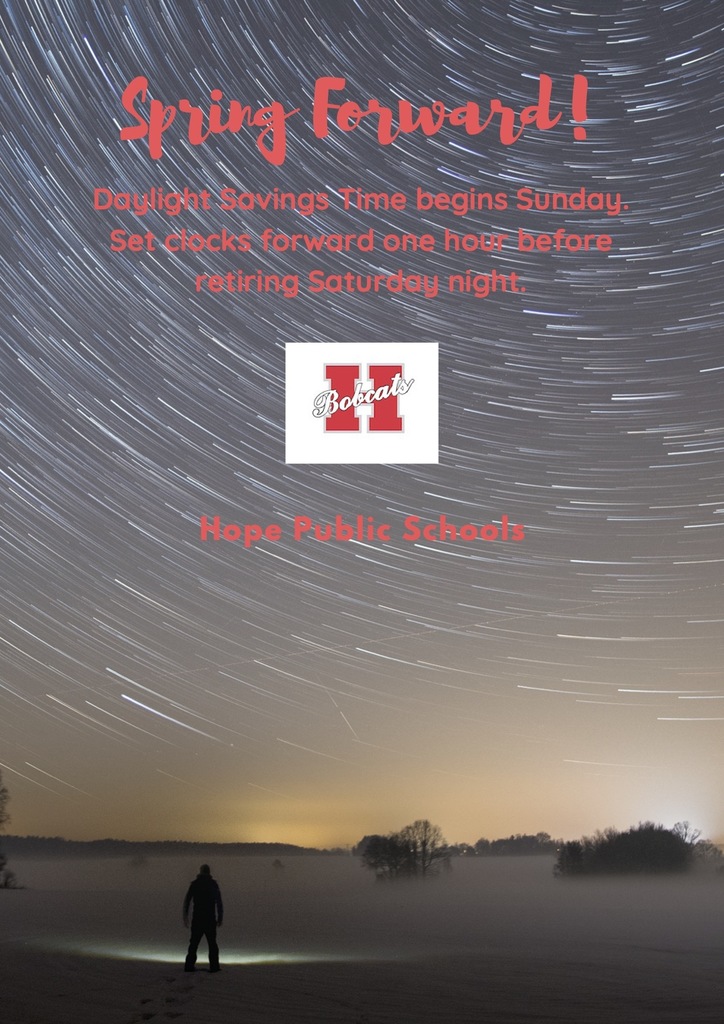 BOBCATS WORK Sign-up... Interested in working and attending school? See flier for details...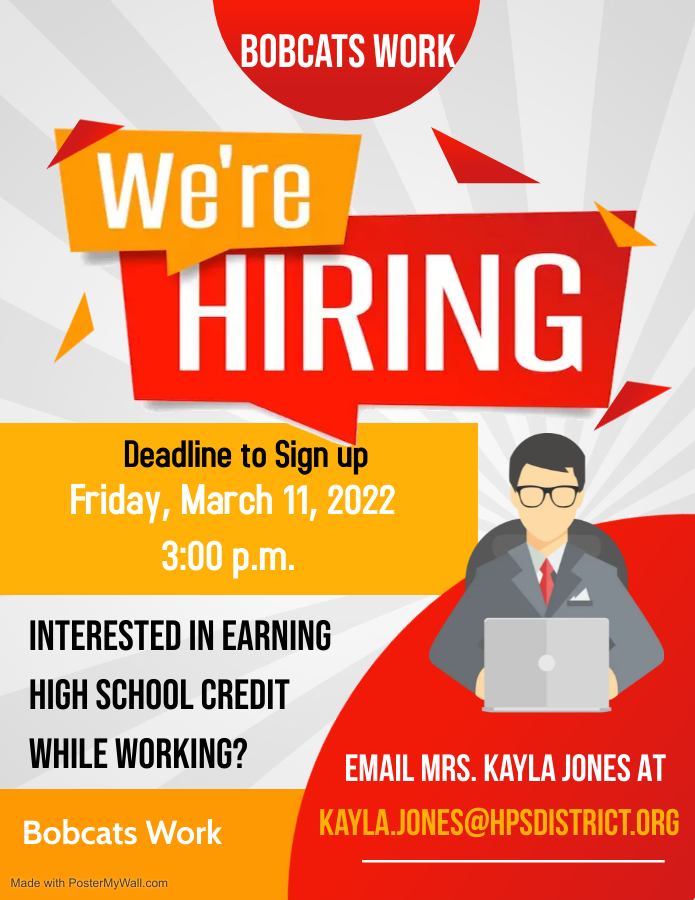 Hope Collegiate Academy Informational Meeting, March 17, Hope High School Auditorium...
Que opinan? Queremos saber que opinan los padres y los estudiantes...
FOOD SERVICE SURVEY -- Here is your chance to let us know what is up and what is down in the cafeteria. Aramark food service survey for students and parents... Details on attached flier.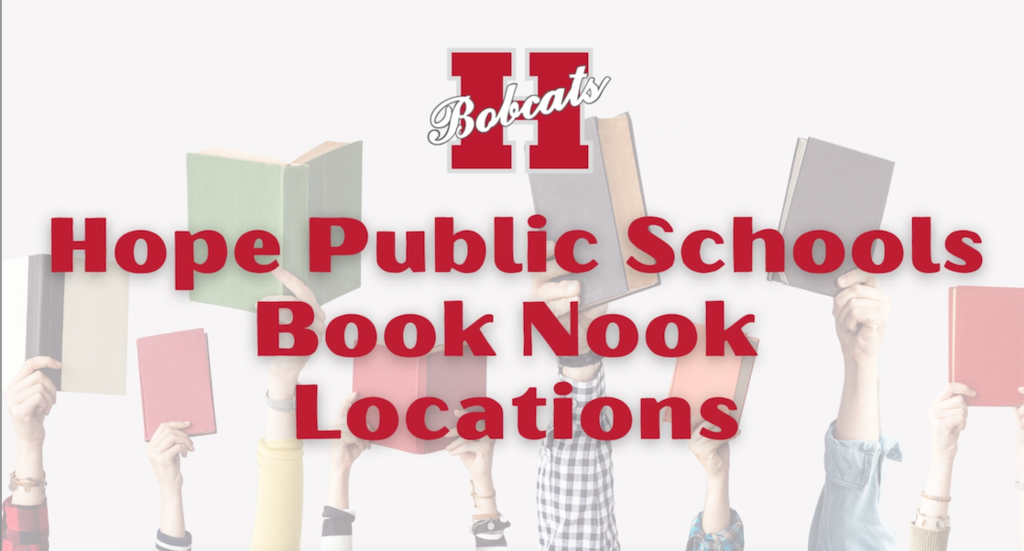 COVID-19 VACCINE CLINICS - COVID-19 vaccinations for students and staff of the Hope Public Schools will be offered Wednesday, Feb. 23. The clinic will be open for HPS students ages 5 years and older who wish to receive the Pfizer COVID-19 vaccine. Other clinic dates for the remainder of the year are March 6; April 6 and 27; and May 18. Patients must be registered with the Bobcat Clinic and a completed registration packet is required prior to vaccination. Registration packets are available on all HPS campuses. A vaccination consent form must also be completed prior to the appointment, Call 870-722-2733, option two, to schedule an appointment.
HPS District Nurse Renee Sells invites HPS students ages 15-18 to an Arkansas Department of Health TEEN NIGHT, Feb. 28, 5-7 p.m. See flyer for details...
All Hope Public Schools basketball games scheduled for today have been cancelled. New schedules will be announced by HPS Athletics Director Phillip Turner.